The Golden Triangle Asian Elephant Foundation (GTAEF) was set up primarily to help elephants that cannot help themselves: for those that find themselves, through abuse or through circumstance, unable to provide and maintain an income for themselves, for their mahouts and their families.
This orgaisation believes that in an ideal world all elephants would be wild and there would be no need to discuss elephants' work. Until we reach that point the Golden Triangle Asian Elephant Foundation works with our partner hotels to give and promote ethical work for those elephants that are able, while providing a safe, healthy environment for those that are not.
The organisation performs rescues for elephants, mahouts and families; we cooperate with the government and other organisations in 'bigger picture' projects; and, at all times, we endeavour to ensure that net good is done and that our actions in helping one elephant do not adversely affect others.   
FAA Lecturer Holds Workshop on Drawing Elephants
Ms. Millicent "Millie" Young, a lecturer of the Fine and Applied Arts Division, Mahidol University International College (MUIC), in collaboration with GTAEF Helping Elephants, a nonprofit organization based in Chiang Rai, held a public lecture and workshop on July 22, 2020 via Zoom.
Basing on her experience drawing and creating animation about elephants, Ajarn Millie also included a demonstration in her lecture.
The organizers said that the event, live streamed on the GTAEF Helping Elephants Facebook page, was ideal for all elephant lovers who would like to explore their own artistic side.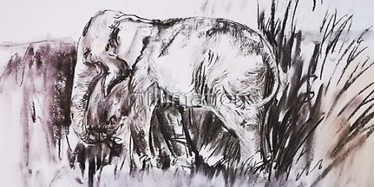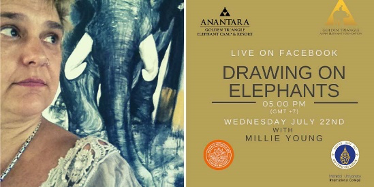 Animal Lovers Club Provides Assistance to Wildlife Foundation
Around 40 students who are members of the MUIC Animal Lovers Club visited the Wildlife Friends Foundation Thailand (WFFT) in Phetchaburi province on June 29, 2019 in a trip dubbed "Let's Go Elephant."
The activities of the trip included learning about WFFT's history, touring the foundation's facilities, and feeding and giving a bath to a rescued elephant.
The club also made a donation to WFFT to assist in its efforts to help rescued wildlife.