"Path for Career Success" Prepares Graduating MUIC Students
March 11, 2023
2023-04-10 3:33
"Path for Career Success" Prepares Graduating MUIC Students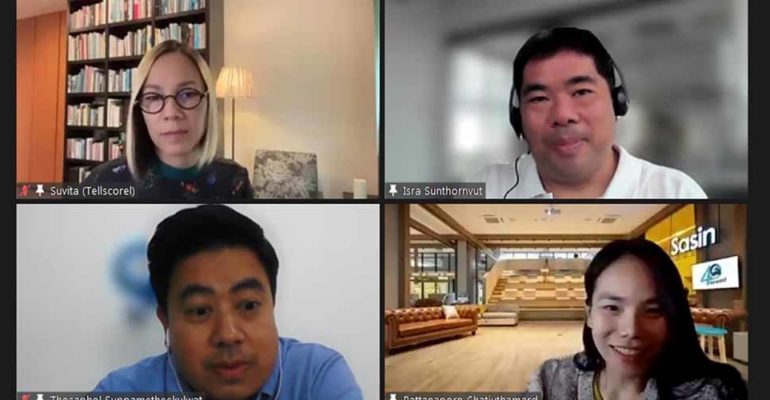 "Path for Career Success" Prepares Graduating MUIC Students
To prepare graduates and current students for the jobs market, the Alumni Affairs and Career Development Group of Mahidol University International College (MUIC) organized the "Path for Career Success Trimester 2/2565-2566" online via Zoom on March 11, 2023.
This event aims to prepare graduates and current students for the jobs market, updating them about job opportunities, and giving them advice or tips on how to create a good resume.
The event had two sessions: Session 1 The Future of Jobs: What to Know When Robots and AI Taking Over" featured as guest speaker Mr. Kantaphon Pinijsathil, Technology Consulting Senior Manager, Accenture Solutions Co., Ltd. (MUIC Alumni). On the other hand, in Session 2 Career Talks by Divisions students were able to choose which seminar to attend based on their major or interest:
BBA Division: Path to Career Success
o Assoc. Prof. Pattanaporn Chatjuthamard, Ph.D., Head of Center of Excellence in Management Research for Corporate, Governance and Behavioral Finance, Sasin School of Management, Chulalongkorn University (MUIC Alumni)
o Suvita Charanwong, CEO & Co-founder, Tellscore (MUIC Alumni)
o Thosaphol Suppametheekulwat, CEO, CirPlas Tech Co.,Ltd. (MUIC Alumni)
o Isra Sunthornvut, Country Director for Thailand, Vriens & Partners (MUIC Alumni)
Science Division: My Survival Guide
o Annop Boonkananurak, Executive Vice President, Strategy and Innovation Department, One Asset Management (MUIC Alumni)
Social Science Division: Representing the World: Careers in Journalism
o James Wilson, Photojournalist, Thai News Pix (MUIC Alumni)
THM Division: A Day with an Event Organizer
o Pornsiree Charatsrivilai, Owner, Modi Edge Wedding Planner and UMA Ramen & Beer (MUIC Alumni)
o Ms. Sirada Sri-Uthaisiriwong Major: ICIH (MUIC students – Internship at Modi Edge Wedding Planner)
FAA Division: Understanding the Changing Trends of the Thai Media Industry
o Metapon Prakthong, Freelance Filmmaker (MUIC Alumni)
HLD Division: Building Job Experience before Graduation: Internships
o Dr. Marc Pinol Rovira, Research Manager, Asia Centre
There were about 70 graduates, current students, alumni, lecturers, faculty members, staff, and others who attended the event.