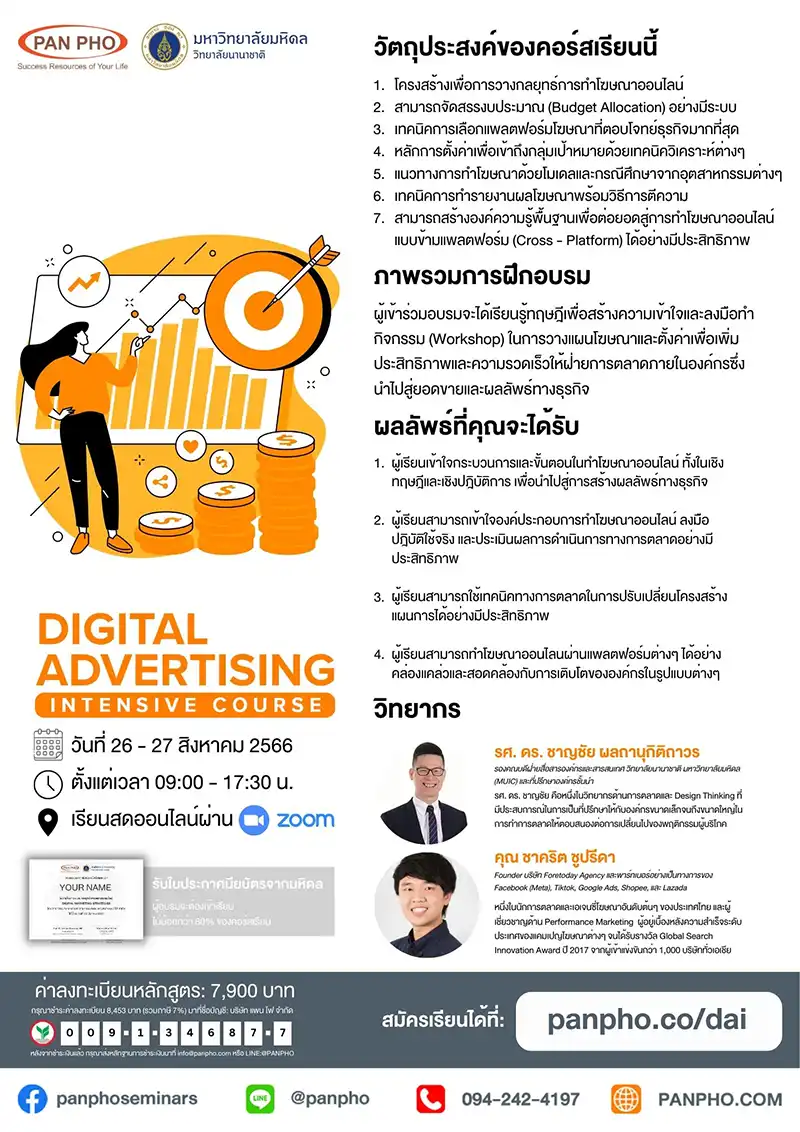 About The Event
In an era where online advertising has become an important way for businesses to acquire customers, the question is whether advertising costs are increasing significantly. What do you, as a marketer, do?
Do you believe that currently one of the challenges for most businesses is how to get more traffic to the business (data from Hubspot 2022) because nowadays every business can launch ads via a notable platform? With that, every industry has new players coming in, affecting businesses that are not able to adapt.
Especially in the post-2022 era, advertising on a single platform may not be as efficient as before, including Facebook, Google Ads, LINE, and Tiktok. However, there are different limitations and behaviors. Therefore, it is important for modern businesses to have a deep knowledge of online advertising planning in order to be able to adjust their strategies and reach their target audience with a powerful budget. With the importance of strategy, Pan Pho Co., Ltd., in collaboration with Mahidol University International College (MUIC), organized a seminar, "Digital Advertising Intensive" which was created to provide significant information, strategies, tactics, and know-how for better advertising performance. The teaching is conducted by two highly experienced speakers: Assoc. Prof. Dr. Chanchai Phonthanukitithaworn, Associate Dean for Corporate Communication and Information Technology of Mahidol University International College, and Mr. Chakrit Chupreeda, Founder and Managing Director of Foretoday Agency, a leading online advertising company that has partnered with famous platforms such as Facebook Ads, Google Ads, Tiktok Ads, and Lazada.
The Digital Advertising Intensive Course will be held on Saturday, August 26–Sunday, August 27, 2023, from 9.00–17.30. The Session will be conducted virtually via Zoom (with a limited number of applications). You can apply today via the website: panpho.co/dai or via LINE: @PANPHO.
---
ในยุคที่การซื้อโฆษณาออนไลน์กลายเป็นหนทางสำคัญของธุรกิจในการหาลูกค้า คำถามคือ ณ ปัจจุบันที่ค่าทำโฆษณากำลังแพงขึ้นอย่างไม่มีจุดสิ้นสุด คุณในฐานะนักการตลาด จะทำอย่างไร?
คุณเชื่อหรือไม่ว่า ณ ปัจจุบัน 1 ในความท้าทายของธุรกิจส่วนใหญ่ คือ ปัญหาในการทำโฆษณาออนไลน์อย่างไรในการหาลูกค้าใหม่เข้ามาซื้อของ (ข้อมูลจาก Hubspot ปี 2022) เพราะในปัจจุบันที่ทุกธุรกิจสามารถเข้ามาซื้อโฆษณาได้ในไม่กี่คลิก ทำให้ในทุกๆ อุตสาหกรรมต่างมีผู้เล่นใหม่เข้ามาเสมอ และส่งผลกับธุรกิจที่ปรับตัวไม่ทันต่อการเปลี่ยนแปลง
โดยเฉพาะอย่างยิ่งในยุคหลังปี 2022 ที่นับว่าเป็นศักราชใหม่ที่การทำโฆษณาบนแพลตฟอร์มเพียงแพลตฟอร์มเดียวอาจจะไม่ได้ประสิทธิภาพสูงเหมือนเมื่อก่อนอีกต่อไป ไม่ว่าจะเป็น Facebook, Google Ads, LINE, และ Tiktok ล้วนแล้วแต่มีข้อจำกัดและพฤติกรรมที่แตกต่างกันออกไป ดังนั้นแล้ว จึงเป็นเรื่องสำคัญสำหรับธุรกิจยุคใหม่ที่จะต้องมีความรู้ในการวางแผนการทำโฆษณาออนไลน์อย่างลึกซึ้งเพื่อที่จะสามารถปรับกลยุทธ์และเข้าถึงกลุ่มเป้าหมายได้ด้วยงบประมาณที่มีประสิทธิภาพ
ด้วยความสำคัญของกลยุทธ์ จึงทำให้บริษัท แพน โฟ จำกัด ร่วมกับ วิทยาลัยนานาชาติ มหาวิทยาลัยมหิดล จัดสัมมนา Digital Advertising Intensive ขึ้นมาเพื่อให้ความรู้ผู้เรียนเพื่อสร้างสรรค์กลยุทธ์และวิธีการทำโฆษณาดิจิตอลให้ประสบความสำเร็จ ดำเนินการสอนโดย 2 วิทยากรมากประสบการณ์ ได้แก่ รศ. ดร. ชาญชัย ผลถานุกิติถาวร – รองคณบดีฝ่ายสื่อสารองค์กรและสารสนเทศ วิทยาลัยนานาชาติ มหาวิทยาลัยมหิดล และผู้เชี่ยวชาญด้านการวางกลยุทธ์ ธุรกิจและคุณ ชาคริต ชูปรีดา ผู้ก่อตั้งและ Managing Director บริษัท Foretoday Agency บริษัทโฆษณาออนไลน์ที่เป็นพาร์ทเนอร์แพลตฟอร์มชื่อดัง อาทิ Facebook Ads, Google Ads, Tiktok Ads, และ Lazada พร้อมรับใบประ-กาศนียบัตรจากวิทยาลัยนานาชาติ ม.มหิดล เมื่อจบหลักสูตร
โดยคอร์ส Digital Advertising Intensive จะจัดขึ้นในวันเสาร์ที่ 26 – อาทิตย์ที่ 27 สิงหาคม 2566 เวลา 9.00 – 17.30 น. ผ่านทางโปรแกรม ZOOM รับสมัครจำนวนจำกัด สามารถสมัครได้แล้ววันนี้ผ่านทาง Website: panpho.co/dai หรือ ผ่านทาง LINE: @PANPHO