Mathematical Foundations Program (MP)
August 25, 2021
2022-07-27 3:23
Mathematical Foundations Program (MP)
Mathematical Foundations Program (MP)
The PC Mathematical Foundations Program (MP) is designed for students needing the skills to meet the mathematics requirements at MUIC and succeed in their college courses. In this intensive program, students improve their skills by learning basic mathematical concepts as well as algebra and pre-calculus.
Applicants apply to study in the MP program via:
MP gives students the opportunity to solidify important mathematics skills necessary to be successful at MUIC and in the future. Students benefit from small class sizes, individual attention from teachers, and classmates solely focused on mathematics. MP was designed to not only give students a chance to enter MUIC but also to build a fundamental understanding of algebra needed for future math courses. Furthermore, MP helps students realize the importance of proper study skills and preparation in order to achieve their academic goals.
MP provides an opportunity for MUIC applicants who have proficient English language skills but lack the required mathematics scores of their chosen MUIC major. These applicants could potentially be accepted to MUIC if they improve their mathematical skills to the level equivalent to MUIC's Foundation Math course.
Each MP course runs for one quarter (10 weeks), including a total of 96 hours of class time per quarter.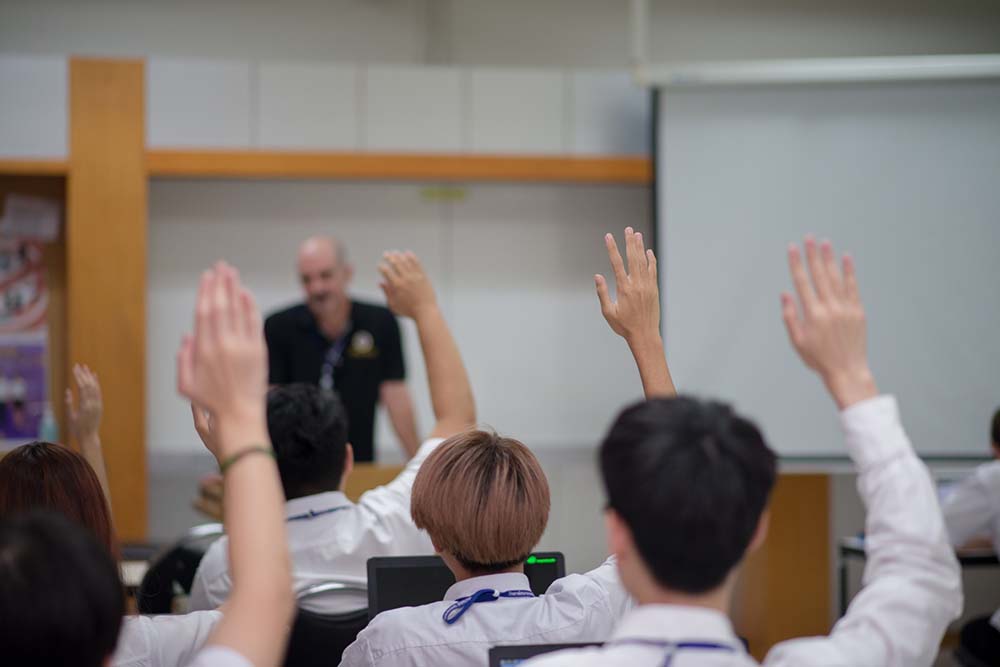 In order to be eligible to study in the PC Mathematical Foundations Program (MP), an applicant's qualifications must meet all PC admission requirements, including passing an interview in English.
Successful MP applicants will be enrolled into the appropriate MP course to fulfill the admissions requirements of their chosen MUIC major.
Course Title

Registration requirements according to MUIC majors*

BBA

B.Sci.

ICTB

ICCT

ICMC

ICCD

ICIR

ICIC

Mathematical Foundations Program (MP)

✓

✓

✓

✓

✓

✘

✘

✘
* The above information may change depending on each major's admission requirements.
Passing Criteria for MP & Matriculation to MUIC
In order to pass MP and matriculate to MUIC, students must meet the following criteria:
Pass the objectives according to the course syllabus
Must attend at least 80% of the class hours in order to take final exams.
Achieve a final grade of 'S' (60% or above) to pass the MP program.
Demonstrate appropriate behavior through the MP course.
Submit complete high school results.
Meet all admissions requirements for the chosen major.
NOTE:
Final grades cannot be changed for any level. Students may not ask teachers or the Program Director to add points to their grades. All such requests will certainly be ignored.
 Students who have already passed the MP course will have their results transferred to MUIC when they are accepted and registered there — MP students are NOT required to retake the MUIC Entrance Examination. If students cannot pass the MP course, their MUIC Entrance results will be cancelled.
Based on a quarterly system, the academic calendar for the Mathematical Foundations Program (MP) aligns with the academic calendar for the Preparation Center (PC) for Languages and Mathematics. The calendar below shows when the students who are qualified for MP will be able to attend classes and subsequently enter MUIC as college students.


PC Quarter
MUIC Trimester*:
Students that pass the MP Program could subsequently study at MUIC in:
Quarter 1 (January – March) →
Trimester III (April – July)
Quarter 2 (March – June) →
Trimester I (September – December)
Quarter 3 (June – August) →
Trimester I (September – December)
Quarter 4 (September – November) →
Trimester II (January – March)
MP Course Duration: 10 weeks per course. Classes are conducted on Mondays – Fridays
*Remark: A student who completes the MP Program in any PC quarter is eligible to study at Mahidol University International College in the following trimester.
Applicants may rely on the above PC/MP Academic calendar for arrangement of your study plan for either MP or MUIC, depending on your MUIC Entrance Examination result.
Example: A student has been accepted to study in MP in Quarter 4. He or she will start the MP course in September and complete the course in November. Then, he or she could study at MUIC in January (Trimester 2).
If the MUIC entrance examination results shows that I get accepted to MP, will my name be submitted to the TCAS (Thai university central admissions system)?
No. Only the students who are accepted to MUIC will have their names submitted to the TCAS. Those with MP student status will not have their names submitted to the TCAS until they complete MP and have enrolled at MUIC and paid the MUIC admissions fee.
I have been accepted to MP, but I submitted my name to another university in the TCAS earlier. what should I do?
The PC program does not submit the students' names to the TCAS; all the accepted students can study at MP on condition that they have to cancel their admission status in the TCAS before continuing to Mahidol University International College.
Office Hours: Mon-Fri, 8:00 am-5:00 pm