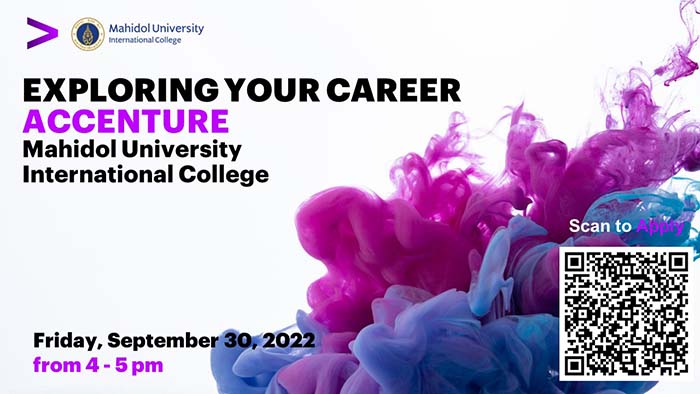 About The Event
Internship and Full-time Positions 
Meet the largest and the most diversified Global Professional Services firm, learn more about "Accenture Intelligent Operation Center" AIOC in Thailand, and life experience after college.
The event is open to all MUIC students, recent graduates, and alumni.
Date: Friday, September 30, 2022
Time: 4:00 – 5:00 PM
On-campus: A401, Aditayathorn Building, MUIC
Online: Zoom
Limited seats! Secure your spot: https://forms.gle/Xnq2y1rpeAnKWjH38
Get yourself ready to land your dream job and see you at the event!
Participants (MUIC students) will receive credits on AT for 1 hour.
Any questions, please feel free to message us m.me/muic.career.development.
Follow us at Facebook: MUIC Career Development
#pathforcareersuccess #muiccareerdevelopment #careerinsightclub #muicalumni