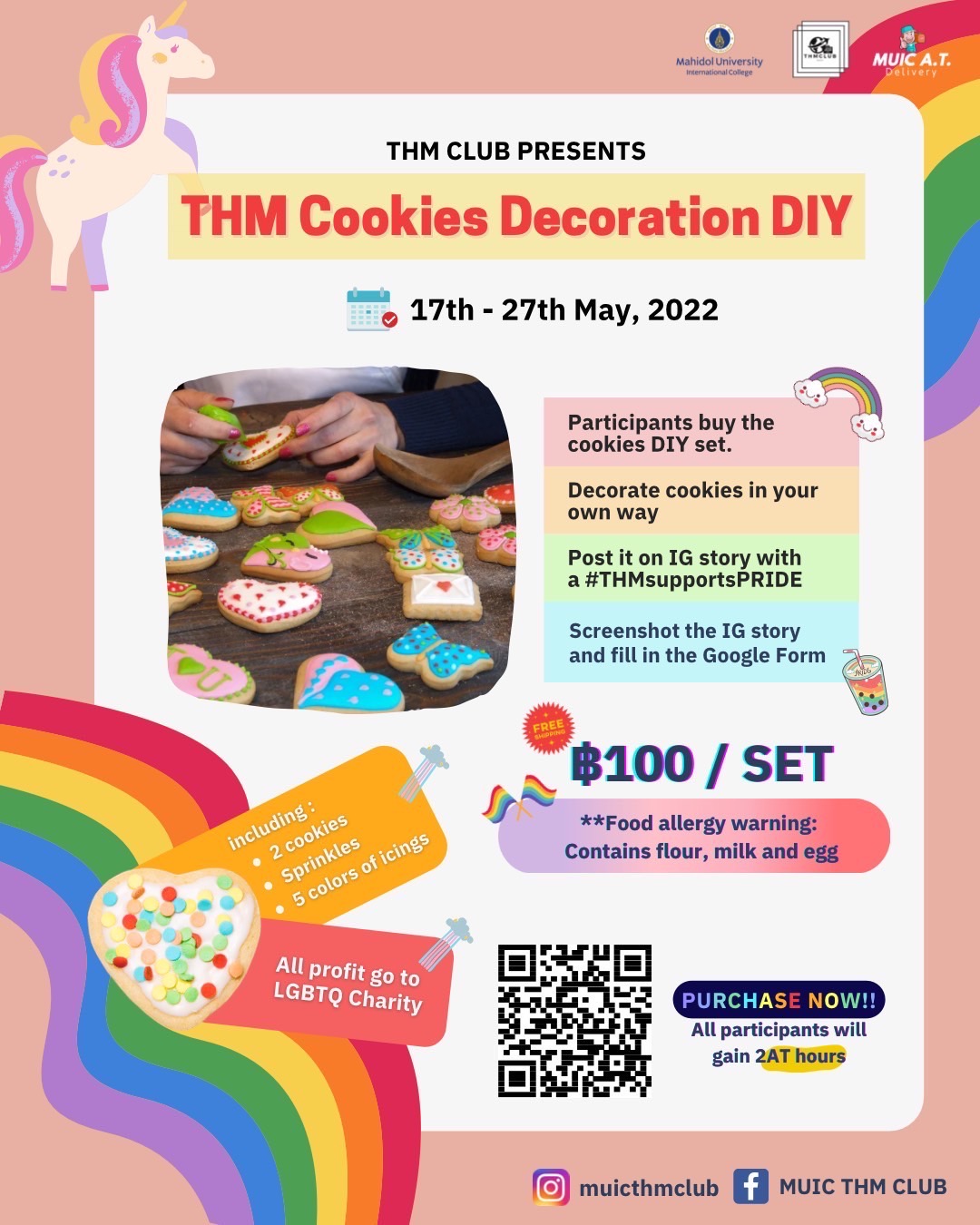 About The Event
Decorate your cookie and show support to the 𝐋𝐆𝐁𝐓𝐐 𝐜𝐨𝐦𝐦𝐮𝐧𝐢𝐭𝐲!

How to join?
1. Buy a DIY cookie decoration box set (฿100 per box, shipping fee included)
2. Decorate your wonderful cookies with the provided ingredients
3. Take a cool photo and post on your IG story and tag @muicthmclub with the hashtag #THMsupportsPRIDE

𝐀𝐥𝐥 𝐩𝐫𝐨𝐟𝐢𝐭𝐬 𝐰𝐢𝐥𝐥 𝐠𝐨 𝐭𝐨 𝐋𝐆𝐁𝐓𝐐 𝐜𝐡𝐚𝐫𝐢𝐭𝐲, 𝐬𝐨𝐨𝐧 𝐭𝐨 𝐛𝐞 𝐚𝐧𝐧𝐨𝐮𝐧𝐜𝐞𝐝!

Date: 17th – 27th May
Location : 𝑰𝒏𝒔𝒕𝒂𝒈𝒓𝒂𝒎

Buy a box set via the following link
https://forms.gle/59rvPHCNPTy1Y5GM6

All participants will receive 𝟐𝐀𝐓 𝐡𝐨𝐮𝐫𝐬

***Remark: 𝐓𝐮𝐭𝐨𝐫𝐢𝐚𝐥 𝐯𝐢𝐝𝐞𝐨 𝐰𝐢𝐥𝐥 𝐛𝐞 𝐫𝐞𝐥𝐞𝐚𝐬𝐞d 𝐨𝐧 𝐨𝐮𝐫 𝐈𝐧𝐬𝐭𝐚𝐠𝐫𝐚𝐦

Please feel free to contact us if you have any question!