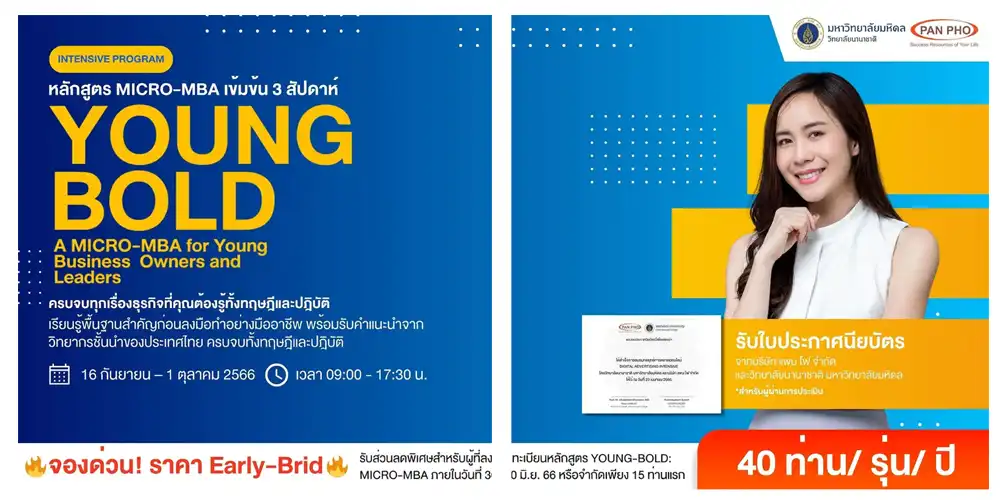 About The Event
Complete your business management training within 3 weeks, with insights, ideas, and strategies from the country's leading entrepreneurs and leaders"
How great would it be if you could learn the skills to manage a business that can grow stably, systematically, and directionally? This Micro-MBA course is your answer!
Young-BOLD: Micro-MBA Learn the skills, strategies, and key ideas to make your business grow strategically, even with minimal or no business management background.
What you'll learn:
Learn about the direction of the economy, future world trends and how to leverage
Design a business plan from a clear idea that is actionable and can be applied in reality
Practice and learn strategic planning and techniques to find customers on a competitive market
Learn how to build an effective and scalable business structure
Delve into the tactics and ways of thinking to set up an effective business system, no need for trial and error
Analyze finance with principles for sharp decision making and many more…
"Get a Certificate from Pan Pho Co., Ltd. and Mahidol University International College (MUIC)" Training on Saturdays and Sundays
September 16 – October 1, 2023
09:00 – 17:00 hrs.
Mandarin Hotel, Samyan, Bangkok
Special for early apply!
Get a special discount price of only 33,000 baht
from the regular price of 65,900 baht
(only for the first 15 people)
See details at >> https://panpho.co/mba
Credit cards accepted
0.74% installment up to 10 months
Contact our staff via:
LINE: @PANPHO
Facebook Messenger: http://m.me/PanphoSeminars
Enhance your lives and business with quality knowledge.
See all seminar details at
www.panpho.com
094-242-4197, 099-397-4624
(Working hours Monday-Friday 09.00-18.00)
---
"ครบจบเรื่องบริหารธุรกิจใน 3 สัปดาห์ 6 วันพร้อมฟังประสบการณ์ แนวคิด กลยุทธ์ จากนักธุรกิจชั้นนำของประเทศ"
จะดีไหม? หากคุณสามารถเรียนรู้ทักษะของการบริหารธุรกิจให้เติบโตอย่างมั่นคง เป็นระบบ และสามารถเติบโตได้อย่างมีทิศทาง! หลักสูตร Micro-MBA นี้คือคำตอบของคุณ!
Young-BOLD: Micro-MBA เรียนรู้ทักษะ กลยุทธ์และแนวคิดสำคัญที่จะทำให้ธุรกิจของคุณเติบโตอย่างมีกลยุทธ์โดยไม่ต้องมีพื้นฐานการบริหารธุรกิจแลยแม้แต่น้อย
สิ่งที่คุณจะได้เรียนรู้
เรียนรู้ทิศทางของเศรษฐกิจ แนวโน้มของโลกอนาคตและวิธีรับมือ
ออบแบบแผนธุรกิจจากไอเดียที่ชัดเจน ทำตามได้ และนำไปใช้ได้จริง
ฝึกฝนและเรียนรู้การวางแผนกลยุทธ์และกลวิธีในการหาลูกค้า
เรียนรู้การสร้างโครงสร้างธุรกิจที่มีประสิทธิภาพและเติบโตได้
เจะลึกเคล็ดลับและวิธีคิดในการวางระบบธุรกิจอย่างมีประสิทธิภาพไม่ต้องลองผิดลองถูก
วิเคราะห์การเงินอย่างมีหลักการ เพื่อการตัดสินใจที่เฉียบคมและอื่น ๆ อีกมากมาย

"พร้อมรับใบ Certificate จากบริษัทแพน โฟ จำกัด และวิทยาลัยนานาชาติ มหาวิทยาลัยมหิดล (MUIC)"
อบรมวันเสาร์ อาทิตย์
16 กันยายน – 1 ตุลาคม 2566
09:00 – 17:00 น.
โรงแรมแมนดาริน สามย่าน กรุงทเพฯ
พิเศษ สมัครก่อนใคร!
รับส่วนลด Special Price เหลือเพียง 33,000 บาท
จากปกติ 65,900 บาท (เฉพาะ 15 ท่านแรกเท่านั้น หมดเขต 30 มิ.ย. 2566) See details at >> https://panpho.co/mba
ยินดีรับบัตรเครดิต
ผ่อน 0.74% สูงสุดนาน 10 เดือน สอบถามเพิ่มเติม ทักแชทได้เลยค่ะ ^^
LINE: @PANPHO
Facebook Messenger: http://m.me/PanphoSeminars
=============
ยกระดับชีวิตและธุรกิจด้วยความรู้คุณภาพ
ดูรายละเอียดสัมมนาทั้งหมดได้ที่
www.panpho.com
094-242-4197, 099-397-4624
(เวลาทำงาน จันทร์-ศุกร์ 09.00-18.00 น.)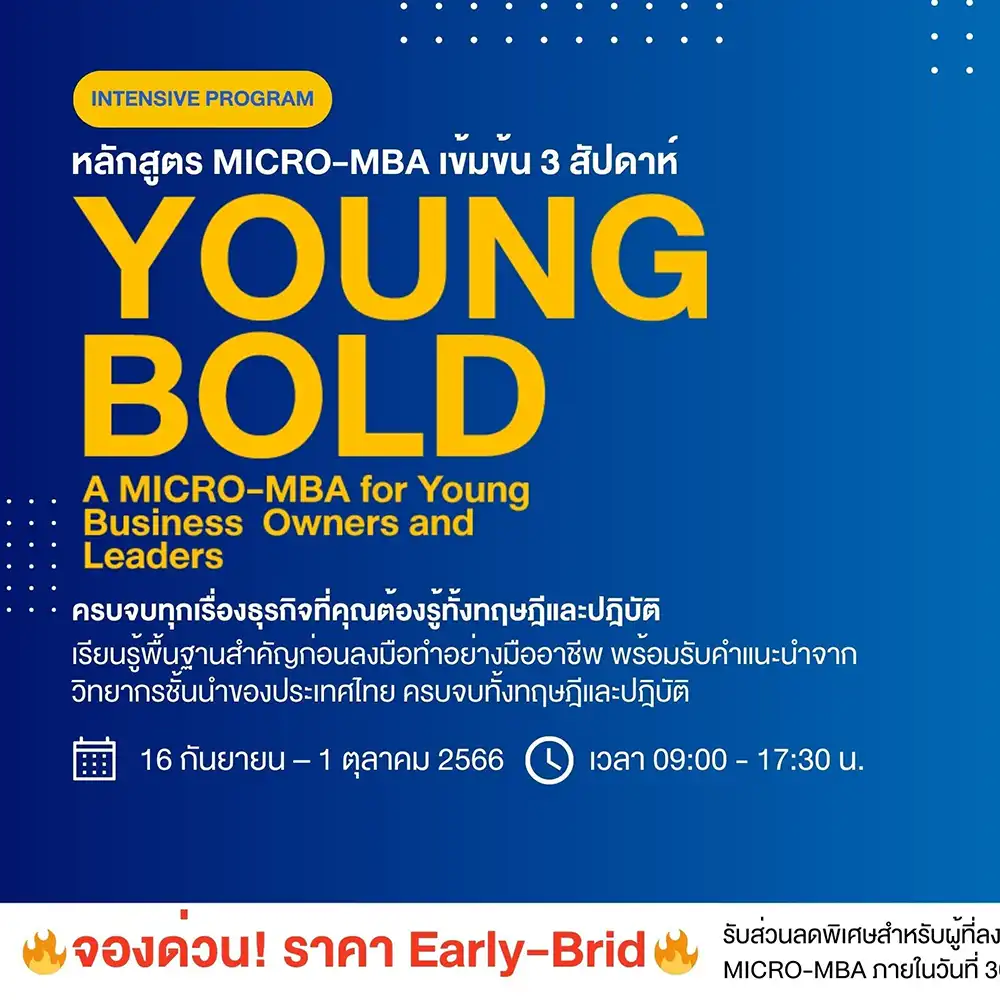 Location
Mandarin Hotel, Samyan, Bangkok