Food Fest Contest Fuels 3 MUIC Students' Dreams
December 20, 2022
2022-12-20 2:56
Food Fest Contest Fuels 3 MUIC Students' Dreams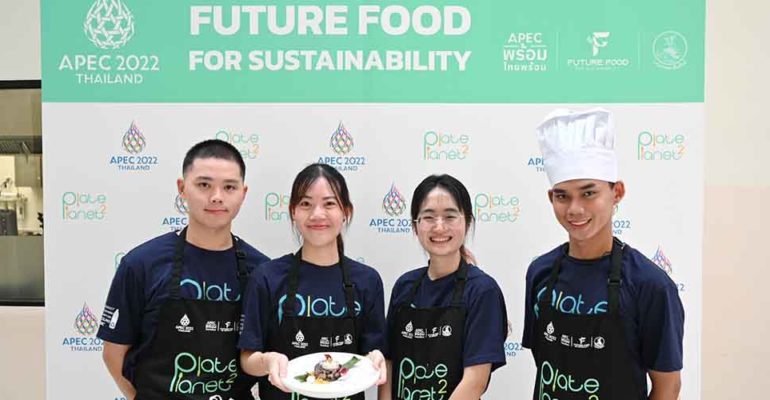 Food Fest Contest Fuels 3 MUIC Students' Dreams
Three students and a chef, comprising a team from Mahidol University International College (MUIC), were selected as one of the Top 60 teams in the recently held "APEC 2022 Future Food for Sustainability: Plate to Planet."
For Ms. Panyawaree "Patty" Saringkarnpoonperm, Mr. Napasadol "Pat" Tangsittichoke, and Ms. Kittiwadee, "Kitty" Kittisuphat—all 3rd year Food Science and Technology students—along with Mr. Tanapat "Dream" Wongcharoen, a chef from Tonklar Facai restaurant which has a branch in the Salaya campus, it was no small feat as more than 2,000 teams participated in the competition held on October 29, 2022 at Central World.
Their entry is called "Kaotommud Superfood," a Thai dessert known as "banana dumpling"—sweet sticky rice embedded with banana slices. The three students described their food entry as having more health benefits than the regular kaotommud "because it contains a number of grains and an ingredient that gives us better health after eating, including less harmful ingredients such as low fat coconut milk or low GI (glycemic index) sugar from coconut."
They added, "The variety of texture of the Kaotommud Superfood gives a yummier taste since you will not only get a chewy texture, it is also crunchy and crispy due to the different kinds of grains. The main attraction of our kaotommud is the banana sphere placed on top, giving the competition's judges a whole new experience of kaotommud."
Asked why they chose to enroll in MUIC's Food Science and Technology program, Patty said that when she was younger, she used to wonder at the wide variety of food available in the market, making it difficult for her to choose. This led her to be more interested in food manufacturing, hence, her current major. "However, studying food science is not only learning about culinary ideas, but also how science works in food. You would learn how to select the most suitable ingredients that would enhance the quality of life and contribute to a healthier lifestyle."
For Pat, he said that the fact that food is very essential in our lives—coupled with the advances in the technology of food science—means that "there can be new ideas, creativities or changes to the food systems at any second. These reasons give me enough excitement to join MUIC's Food Science and Technology program."
Kitty, on the other hand, said that Food Science and Technology is not just a culinary program as some people might think. It has strong foundations in chemistry (which was her favorite subject in high school). "Chemistry explains numerous phenomena that happened in the past, and that is happening now, and will happen in the future. However, I prefer the limitless creativity of the arts and at the same time be influenced by analytical thinking. When I visited MUIC's open house a few years ago, I found out that its Food Science and Technology program offers what I've been looking for, plus, food is one of the basic human needs so commercially speaking, studying food science has endless possibilities. It's quite an academically challenging major but it's definitely worth it for your future self and the world."
Asked about her career plans, Patty said, "My ultimate dream is to run a food-related company. I also plan to work and travel to gain as much experience as I can. I want to spend time digging deeper into what kind of product I specifically want to develop since my current interest is alternative food. Besides, I am also passionate (and good at) about marketing and graphic design. Hence, I want to study more about this as well."
For Kitty, her experience in the APEC 2022 competition reinforced her dream of being in research and development for several years after graduating. "The contest made me realize how much fun I can get from learning how to develop novel food that is also sustainable. It allows me to put theories into practice, and receive constructive feedback from experts in different industries. Plus, I am inspired by many participants of this competition as they have extremely creative yet practical ideas of using local but neglected ingredients to create alternative proteins. So, I plan to be in the R&D field for the years to come, and hopefully I will establish my own food companies and develop new products that help with the health of teenagers. These are my rough plans for the future but it may change too. I always leave some room for changes as anything can happen."
Pat, on the other hand, dreams of coming up with an innovative food product or technology.
"I will try to gather as much food-related knowledge and experience as I can. Then, I would aim to learn much from experienced people or companies while coming up with new ideas or innovations in order to achieve my dream. I believe that it is not be impossible to come up with new innovations of my own," he said.
With their innate intelligence, determination to learn more about their chosen fields and willingness to acquire more skills while studying in MUIC, these students can expect to enjoy a successful career in the near future.
***To learn more about the Food Science and Technology major, please click here: https://muic.mahidol.ac.th/eng/programs/undergraduate-programs/science/major-in-food-science-and-technology/