Japanese and Thai Tourist Destinations Featured in MUIC, Chiba Uni Staff Event
December 28, 2021
2021-12-28 9:41
Japanese and Thai Tourist Destinations Featured in MUIC, Chiba Uni Staff Event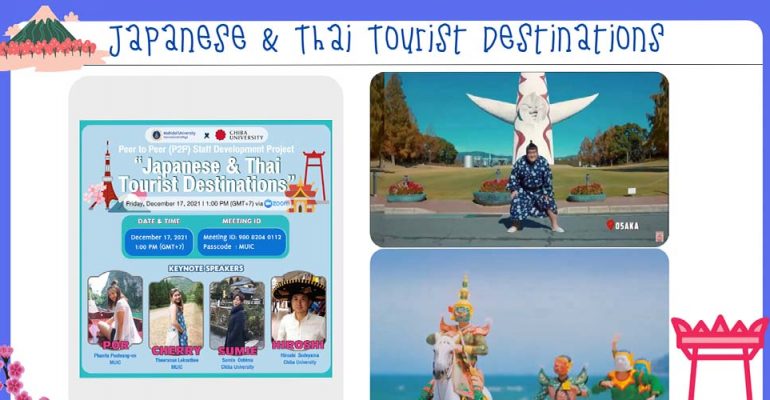 Japanese and Thai Tourist Destinations Featured in MUIC, Chiba Uni Staff Event
Mahidol University International College's (MUIC) Project Development Unit (PDU) and Human Resources Development Unit collaborated with Chiba University International Student Division (CU-ISD), Japan in organizing the P2P Staff Development Project Session 3 on December 17, 2021, with the topic "Japanese and Thai Tourist Destinations" on an online platform.
Many people look forward to December when they can celebrate holidays with their family and loved ones. The speakers from MUIC, Ms. Phanita Pooteang-On and Ms. Theeranun Leksuthee, along with their counterparts from Chiba University, Mr. Hiroshi Sodeyama and Ms. Sumie Oshima, gave presentations on the topic "Tourism Destinations in Thailand and Japan." Divided into four categories, including "Natural Tourism," "Film Tourism," "Cultural Tourism," and "Festival and Event Tourism," the speakers from MUIC shared locations and must-do activities from top tourist destinations in Thailand such as trekking and camping at Doi Intanon, Chiang Mai and kayaking at Maya Bay, Krabi which was made famous by the movie "The Beach." The "Temple of the Dawn" or Wat Arun was another tourist destination that MUIC's speakers recommended. On the other hand, Niseko and Jigokudani Onsen in Hokkaido were highlighted for Thais to experience snowboarding, along with local food and enjoying the hot springs or "onsen" in winter. The Sensoji Temple and Asakusa Shrine in Tokyo with kimono dressing-up and rickshaw-riding along Nakamise Shopping Street were recommended by the speakers from Chiba for their colleagues at MUIC.
Over 30 participants watched a video introducing "Tourism in Japan and Tourism in Thailand" before the presentation. Afterwards, the participants had the chance to share their experiences in traveling. In the end, there was a Panel Quiz Game where participants tried to answer questions and guess the hidden photo. The participants later said that it was a fun and interesting activity.