MBA Class Invites Former UNESCAP Official as Guest Speaker
July 20, 2021
2021-07-20 4:49
MBA Class Invites Former UNESCAP Official as Guest Speaker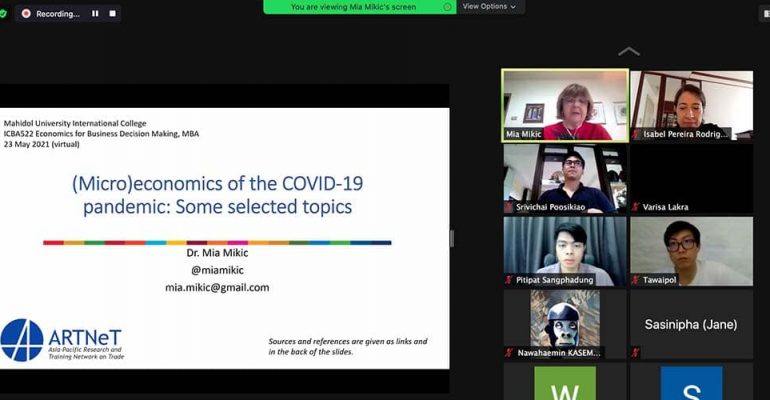 MBA Class Invites Former UNESCAP Official as Guest Speaker
The Master of Business Administration (MBA) Program of Mahidol University International College (MUIC) hosted Dr. Mia Mikic, former Director of the Trade, Investment and Innovation Division of the United Nations Economic and Social Commission for Asia and the Pacific (UNESCAP) as guest speaker on May 23, 2021 for the course on Economics for Business Decision Making, conducted by Dr. Isabel Pereira Rodrigues.
The guest lecturer addressed the topic "(Micro)economics of the COVID-19 pandemic: Some Selected Topics." Starting by highlighting the four main dimensions of the current pandemic crisis – health, economic, social and development – the presentation addressed many of the challenges and also opportunities that economies and societies currently face. The graduate students were particularly keen on learning about the possible trade-off between resilience and efficiency, and the expected higher flows of intangibles and data in a re-globalized world.
The talk concluded with the guest speaker having a lively discussion with all participants. This lecture was also part of the initiatives of the Asia-Pacific Research and Training Network on Trade (ARTNet), of which MUIC is an institutional member.
MUIC very much appreciates Dr. Mikic's contribution and looks forward to welcoming her and the ARTNet team again, remotely or in person, in the near future.