MUIC and Siriraj Hospital Unveil Bangkok Noi Photo Exhibition
February 24, 2020
2020-02-24 9:13
MUIC and Siriraj Hospital Unveil Bangkok Noi Photo Exhibition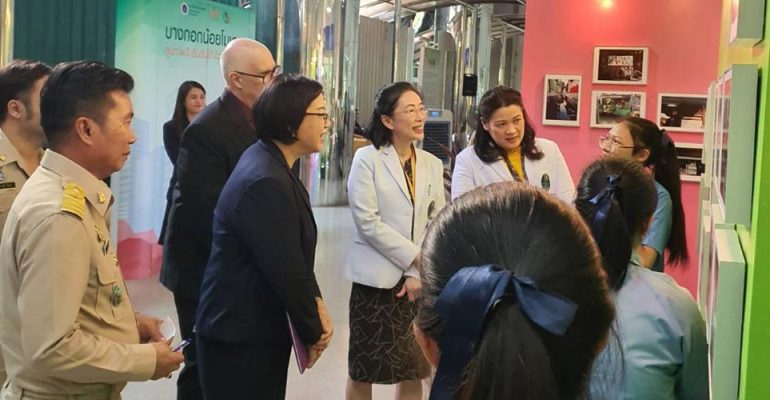 MUIC and Siriraj Hospital Unveil Bangkok Noi Photo Exhibition
As part of the Bangkok Noi Model Project, a collaborative trans-disciplinary research initiative between Mahidol University International College (MUIC) and Siriraj Hospital and funded by the Thai Health Promotion Foundation, an exhibition of photographs by students of Suwannaram School in Bangkok Noi was displayed at Siriraj Hospital on February 24-28, 2020.
The exhibition, under the theme "Young People, Big Voices, Bangkok Noi" was formally opened on February 24 at the 100th Year Somdej Phrasri-Nagarindra Building in Siriraj Hospital with Assoc. Prof. Chulathida Chomchai, M.D., MUIC Dean, Prof. Manee Rattanachaiyanont, Deputy Dean of Academic Affairs, Faculty of Medicine, Siriraj Hospital, and Mr. Jongjad Jantob, Director of Suwannaram School gracing the occasion. Assoc. Prof. Dr. Chanida Hansawasdi, Associate Dean for Research, and Dr. Jerimiah Morris, Chair of the FAA Division, also attended the event.
Two MUIC lecturers, Dr. Matthew Ferguson of the Humanities and Language Division and Asst. Prof. Dale Konstanz of the Fine and Applied Arts Division and Assistant Dean for Research, with support from well-known photographer, Rammy Narula, spearheaded this project which provided a workshop training to a group of 20 students of Suwannaram School about telling stories through photography. The participants then took photos in Bangkok Noi as a way to communicate about the neighborhood and the people they encounter as young members of the community. Several MUIC students also assisted in the workshop.
The exhibition featured 39 of the photographs taken by the Suwannaram School students.