MUIC Case Club Hosts "Design Thinking by Accenture"
November 10, 2021
2021-11-10 1:43
MUIC Case Club Hosts "Design Thinking by Accenture"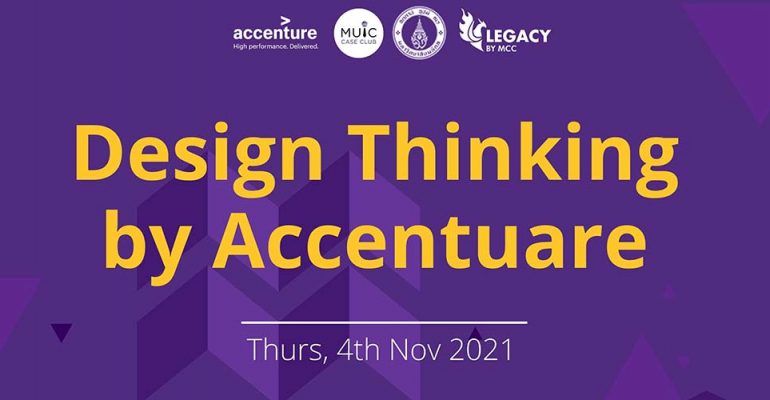 MUIC Case Club Hosts "Design Thinking by Accenture"
Mahidol University International College's (MUIC) Case Club hosted the "Design Thinking by Accenture" on November 4, 2021.
This seminar featured two guest speakers from Accenture Thailand: Mr. Nattavut Luenthaisong, Digital Marketing Manager and Ms. Nattakarn Tapasanan, Digital Marketing Manager.


Through them, MUIC students learned about the design thinking process. There were around 80 participants ranging from students, faculty members, and Accenture staff.
"Design Thinking by Accenture 2021" was organized by a committee composed of members of the MUIC Case Club, namely, Mr. Gursimran Singhprasong, President of MCC2021, Mr. Nicholas Tan Hong Xin, Vice President of MCC2021, Ms. Jetiya Kongamornpinyo, General Secretary, Mr. Vikrant Kamal Ganwani, Head of Development and Finance, Ms. Princess Erica Gallemit, Head of Operations, and Mr. Sihapanha Moun, Head of Marketing and Public Relations.

The MUIC Case Club is a college-level consultancy-based club which aims to make successful stories through competing and organizing case competitions.

Accenture Thailand is a leading global professional services company, providing a broad range of services and solutions in strategy, consulting, digital, technology, and operations

For more information, please visit
Legacy by MCC socials:
Facebook :www.facebook.com/legacybymcc
Instagram :www.instagram.com/legacybymcc
MUIC Case Club's socials:
Facebook: www.facebook.com/muic.caseclub
Instagram: www.instagram.com/muiccaseclub
LinkedIn: www.linkedin.com/company/muic-case-club/
Email: muic.caseclub@gmail.com