MUIC Celebrates 37th Anniversary
March 24, 2023
2023-03-30 6:06
MUIC Celebrates 37th Anniversary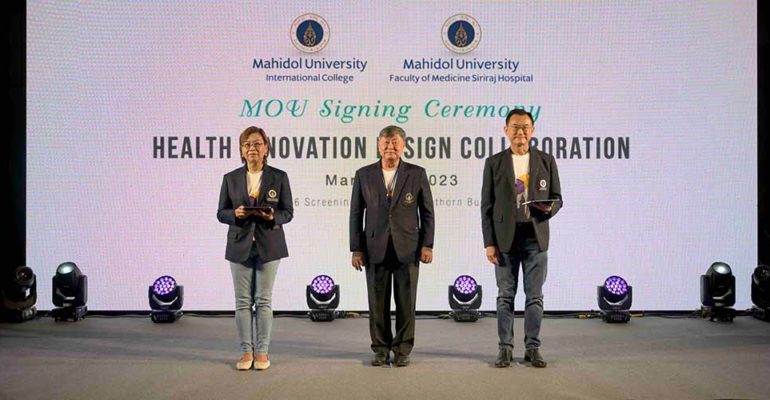 MUIC Celebrates 37th Anniversary
To commemorate its 37th year, Mahidol University International College (MUIC) lined up several major activities on March 23-24, 2023.
No less than Prof. Banchong Mahaisavariya, M.D., President of Mahidol University, delivered the opening remarks on the MUIC 37th Anniversary's theme of "Creating Global Citizens" during the opening ceremony held on March 23, 2023 at the Screening Room A556, Aditayathorn Building, MUIC.
Prof. Dr. Chulathida Chomchai, M.D., Dean of MUIC, then signed a memorandum of understanding (MOU) with her counterpart Prof. Apichat Asavamongkolkul, M.D., Dean of the Faculty of Medicine, Siriraj Hospital. The MOU covers the two institution's collaboration on the Designing Health Innovations Minor Program.
The two deans then served as discussants in a discussion panel entitled "Health Innovation Design Collaboration."
Afterwards, Dr. Chadchart Sittipunt, Governor of Bangkok, gave a speech on the topic, "Creating Global Citizens."
Mahidol University executives and faculty members also attended the occasion.
Later, everyone proceeded to a viewing of the "Global Citizenship Exhibition."
In the afternoon, a special talk session was held on the theme "Lifelong Learning, Global Citizenship, and Sustainability" featuring three successful MUIC alumni, namely, Mr. Thosaphol Suppametheekulwat, CEO CirPlas Tech Co., Ltd., Mr. Sirachai Arunrugstichai, Marine Biologist and Conservation Photojournalist, and Ms. Supawan Supaneedis, Film and Cultural Studies Enthusiast.
Early in the morning of March 24, the Dean, executives, faculty members, and staff participated in the Offering of Blessing Ritual at the Chao Por Khuntoong Shrine followed by a Religious Ceremony officiated by nine Buddhist monks at the Reception Hall of Aditayathorn Building.
In the afternoon, the "MUIC Faculty & Staff Appreciation Day 2023" was held at the Screening Room A556, Aditayathorn Building to honor faculty and staff members selected for their outstanding performance.
View more YouTube videos:
MUIC Celebrates 37th Anniversary: "Lifelong Learning, Global Citizenship, and Sustainability"
MUIC Celebrates 37th Anniversary : Dr. Chadchart Sittipunt, Governor of Bangkok
MUIC Celebrates 37th Anniversary: Student Health Innovation Showcase
MUIC Celebrates 37th Anniversary: Health Innovation Design Collaboration
MUIC Celebrates 37th Anniversary – MUIC X SIRIRAJ (MOU)