MUIC Film Club – "It's Alive, it's ALIVE!"
May 16, 2023
2023-05-16 10:06
MUIC Film Club – "It's Alive, it's ALIVE!"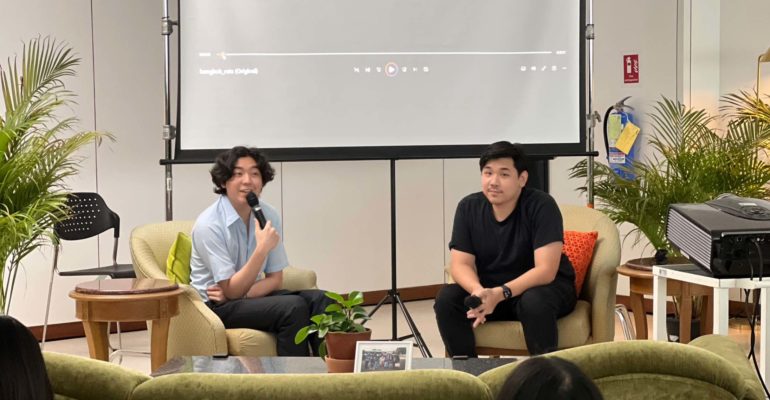 MUIC Film Club – "It's Alive, it's ALIVE!"
By Dr. Bryan Ott
On Friday May 12, 2023, the MUIC Film Club energized the FAA Student Lounge with its first official event – Screening FAA Film Alumni and Film Factory Commercial Director, Mr. Poj Pitakjamnong's latest short film followed by a Q+A session.
With over 80 students in attendance, Mr. Poj spoke about working in the Thai film industry and life after FAA.
With its primary student team, led by Narathep "Pann" Nuanphak, President; Laura Canal, Vice-President; Tirasak Sipilae "Elliot" Simawit, Secretary; and Chatthippa "Margo" Laklok, Treasurer; the Film Club promises more exciting events to come this trimester, and in the future.
Add the Film Club Line Group QR code and keep up with the latest club news. Let's watch some movies.
More on FAA Alumni Poj Pitakjamnong (Class of 2016): Poj is a commercial film director, represented by Thai's leading production company and has directed multiple award-winning short films and commercials including "Death of a Legend" (2014) , "Lost in the Universe" (2016), "Ababo" (2017), and the award-winning branded short film, "The Ingredients" (2018) featuring multiple award-winning stars including Chatchai Plengpanich, Naphat Siangsomboon, Suphakorn Kitsuwon, Lalita Panyopas, Noppachai Chaiyanam, and Sinjai Plengpanich. The commercials directed by Poj have received 16 awards including and shortlisting in Cannes Lion Awards in 2017 and Gold Awards at The One Show in USA in 2018.