MUIC Hosts 1st Study Trip in Thailand for Japan's ICU
December 3, 2022
2023-01-06 4:31
MUIC Hosts 1st Study Trip in Thailand for Japan's ICU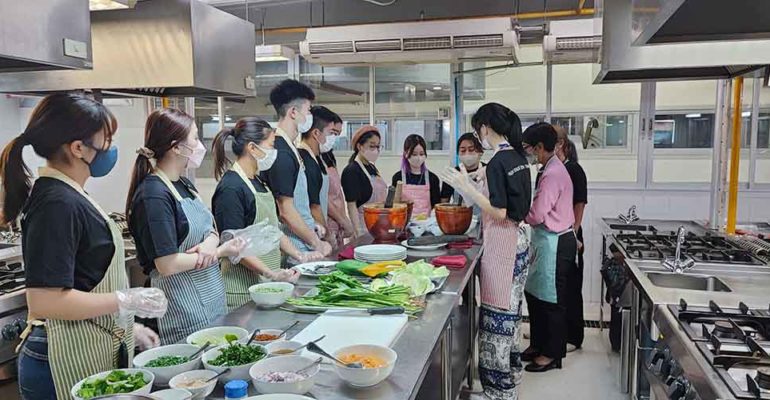 MUIC Hosts 1st Study Trip in Thailand for Japan's ICU
The Project Development Unit (PDU) of Mahidol University International College (MUIC), in collaboration with International Christian University (ICU), Japan led by Prof. Allen Kim, Senior Associate Professor of Sociology, organized for the first time "Study Trip in Thailand" on November 26 – December 3, 2022.

During the program, the participants had opportunities to explore Thai culture and society through both academic and cultural activities. The group attended a lecture on "Introduction to Thailand Culture" and experienced a taste of Thai culture while on a field trip.

The group visited an organic coconut farm which promotes sustainable tourism in line with the United Nations' Sustainable Development Goals (SDGs). Throughout the visit, the group learned from the local people their traditional knowledge which is slowly fading away with time. The day was full of laughs and smiles from both visitors and the host. A demonstration of Thai hospitality was one of the best parts of the program, according to the participants.

Apart from the academic class and field trip, the group also did cultural exchange activities at the College of Fine Art with the local students. Students from both institutions had a lot of fun doing the Thai dance activities. They learned the different cultures of each part of Thailand through the various costumes and the dances. More than anything, the participants said this program broadened their perspectives. They said they really enjoyed all the activities and that their time was very well-spent here in Thailand.

MUIC expressed hope that all the participants had a wonderful time and gained valuable experience through this joint activity