MUIC, Mahidol University Join NTU Partner Information Session
October 29, 2021
2021-10-29 6:27
MUIC, Mahidol University Join NTU Partner Information Session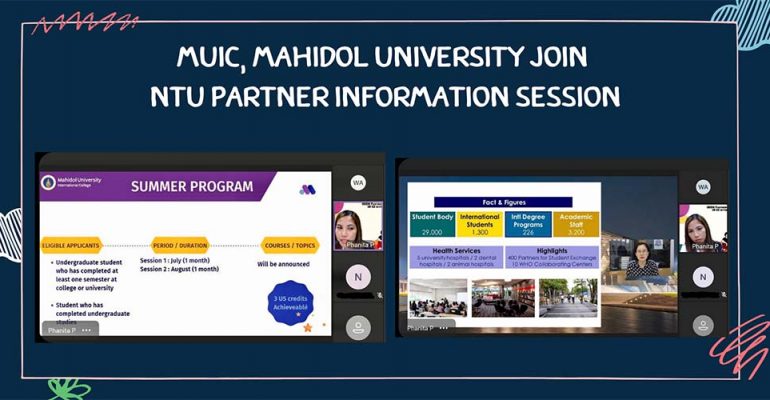 MUIC, Mahidol University Join NTU Partner Information Session
Mahidol University International College's (MUIC) Project Development Unit (PDU) and Mahidol University's International Relations Division participated in a virtual "Partner Information Session" organized by the Office of Global Education and Mobility (OGEM) of Nanyang Technological University (NTU), Singapore on October 21, 2021 via Microsoft Teams.
The PDU has offered the "Prelude Program for NTU" for many years and regularly participates in the GEM Fair@NTU and Summer360@NTU, Singapore every year. For this year, with the pandemic, NTU organized the event to use an online platform.
Ms. Phanita Pooteang-On, International Relations Officer of MUIC, with Ms. Suchada Phruthonkul, International Relations Officer of Mahidol University, provided useful information to NTU undergraduate students who are venturing for their semester exchange in 2022-2023.
The session ended with the fruitful discussion by Ms. Pauline Ho, Deputy Director of OGEM at NTU and Ms. Worada Apirat, Head of PDU at MUIC, of the possibility to strengthen and expand collaboration from student mobility to academic collaboration between the two universities.