MUIC Riders in "Team Distance Challenge"
November 13, 2022
2022-12-09 1:48
MUIC Riders in "Team Distance Challenge"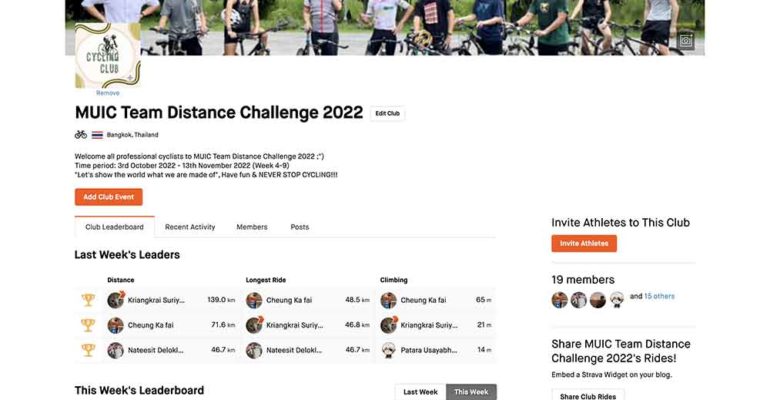 MUIC Riders in "Team Distance Challenge"
The Cycling Club organized a riding competition called "MUIC Team Distance College" from October 3 to November 13, 2022.
Participants formed teams of three people each to help gain the maximum distance possible in riding their bikes. All participants uploaded their workouts onto the "Strava" application to update their progress. The team that had traveled the most distance in the given time limit won the competition.
Random Team 1 consisting of Karit Sumritluan, Kittichet Charoenlertwong, and Ka Fai Cheung won 1st Place and received 1,500 Baht cash prize. Tungting Team consisting of Sarocha Thipsing, Nichaphatr Suvajanakorn, and Lapatsakorn Preuksakesorn, won 2nd Place and 900 Baht cash prize. Random Team 2 comprising Max Driscoll, Jaekuk Yoo, and Yemin Tun, came in at 3rd Place, winning 600 Baht cash prize.