MUIC Students Win 2nd Runner-up in Business Simulation Contest
March 4, 2023
2023-03-16 9:38
MUIC Students Win 2nd Runner-up in Business Simulation Contest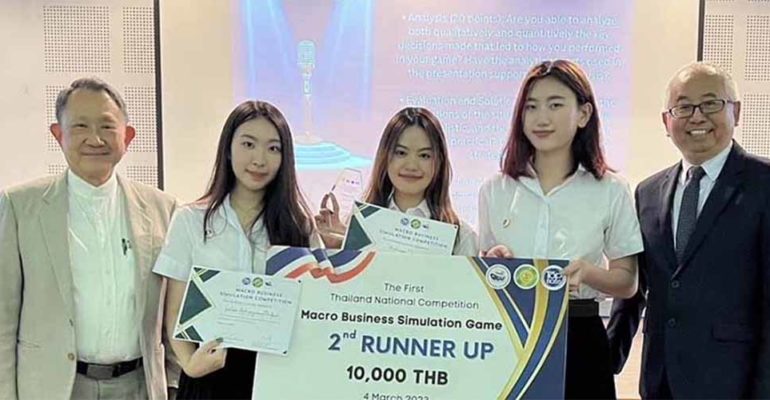 MUIC Students Win 2nd Runner-up in Business Simulation Contest
Three freshmen from Mahidol University International College (MUIC) were awarded the 2nd Runner-up prize in the first Thailand National Macro Business Simulation (MBS) competition hosted by BBA, School of Business, Kasetsart University.
Held on March 4, 2023, 76 teams from over nine universities competed in MBS, which aims to "empower young talents to become more confident in making sound business decisions" and provide insights into the management of C-level executives.
The winners from MUIC, who were members of the No Mayonnaise Please team, were Ms. Nichapa Chayaopars (International Business), Ms. Salisa Aphinyawutthikul (Finance), and Ms. Jiyun Kim (Business Economics). The sponsor, Top Boss Taiwan, rewarded the 2nd Runner-up with a 10,000 Baht cash prize.
List of 2nd Runner-up Winners
1. Nichapa Chayaopars Student ID: 6580163 Major: International Businesses
Year 1 received award title: 2nd runner up
2. Jiyun Kim Student ID: 6580627 Major: Economics
Year 1 received award title: 2nd runner up
3. Salisa Aphinyawutthikul Student ID: 6580535 Major: Finance
Year 1 received award title: 2nd runner up