MUIC Team Reaches Finals in Business Case Contest
September 5, 2022
2022-09-05 16:19
MUIC Team Reaches Finals in Business Case Contest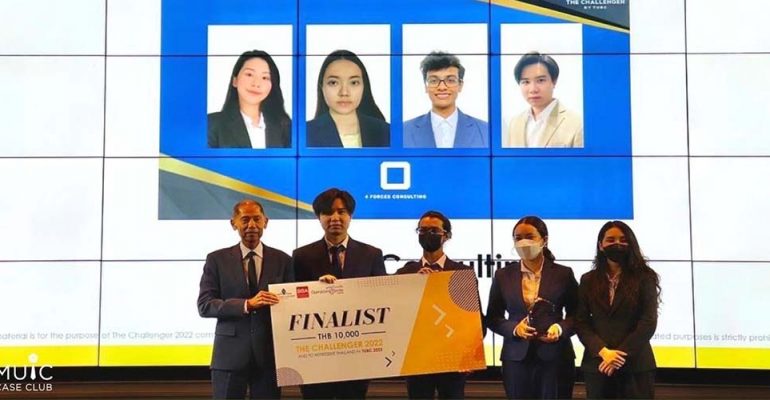 MUIC Team Reaches Finals in Business Case Contest
A team from MUIC Case Club was chosen as one of the finalists in Thammasat Undergraduate Business Challenge's (TUBC) "Challenger 2022" held on August 27, 2022 at Bangkok Marriott Marquis Queen's Park in Bangkok.
4Forces Consulting Team was chosen as one of the three finalists and will be competing in TUBC in October 2022.
Another team fielded by MUIC Case Club, Athena Aces, won at the division level while three others—ALPHA, The Dark Knight Consulting, and Padthai Buddies—reached the qualifying round.
Overall, 161 teams applied for the competition. Out of those, 20 teams were selected from the qualifying round. These were then advanced to the presentation round. The three best performing teams were chosen as finalists.
The event began with welcoming speeches by Dr. Worapong Janyangyuen, Director of Bachelor's Degree in Business Administration (International Program), and Mr. Alan Kam, Director of Operation Smile Thailand. The event was organized by BBA Thammasat and Thammasat Business School.
The MUIC Case Club acknowledged its mentors who have guided the teams participating from MUIC throughout their case competition. The mentors include:
1. Ms. Intira Setavoraphan, President of MCC 2022
2. Mr. Sihapanha Moun, Vice President of MCC 2022
3. Mr. Piyush Saraf, Head of Development & Strategy
4. Mr. Enrico Soetanto, Associate Member of MUIC Case Club
About The Challenger by TUBC
A business case competition organized by TUBC committees that provides an opportunity for undergraduate students in Thailand to compete in a 7-day business case study on real-world corporations.
About MUIC Case Club
A college-level consultancy-based club which aims to make successful stories through competing and organizing case competitions.
For more information, please visit:
The Challenger by TUBC's socials:
Facebook: www.facebook.com/thechallenger/
Instagram: www.instagram.com/thechallengerofficial/?hl=en
LinkedIn: www.linkedin.com/company/tubc/?originalSubdomain=th
Website: www.tubc.org/thechallenger.html
Email: thechallenger@tubc.org
MUIC Case Club's socials:
Facebook: www.facebook.com/muic.caseclub
Instagram: www.instagram.com/muiccaseclub
LinkedIn: www.linkedin.com/company/muic-case-club/
Email: muic.caseclub@gmail.com