Museum Visit Teaches MUIC Students about ASEAN Cultures
October 20, 2022
2022-10-20 3:31
Museum Visit Teaches MUIC Students about ASEAN Cultures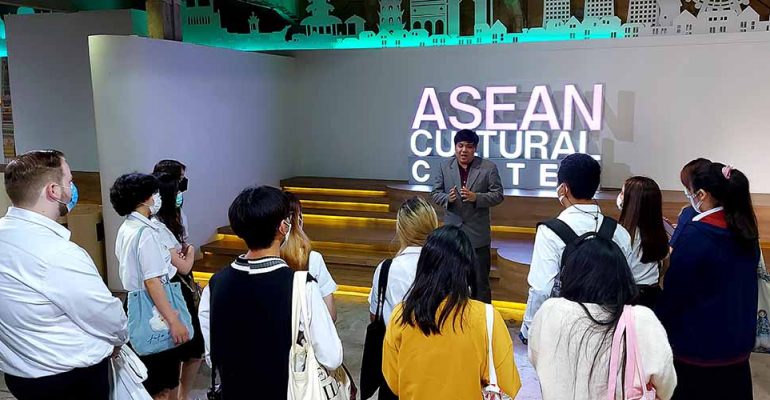 Museum Visit Teaches MUIC Students about ASEAN Cultures
What better way to get a clearer idea about the cultures of ASEAN countries than visiting the ASEAN Cultural Center?
Twenty-eight students from ICIC 251 Contemporary Southeast Asia: Cultural Studies under the Intercultural Studies and Languages major precisely did that. They went to the cultural center located on Ratchadamnoen Road, in Bangkok's Phra Nakhon District, on the morning of October 15, 2022.
Under the guidance of several cultural officers, the students and their course lecturer, Asst. Prof. Dr. Analiza Liezl Perez-Amurao, went through several exhibitions that highlighted the similarities and differences of cultural traits between ASEAN countries. The students were also amazed by Southeast Asia's wide variety of food, national dress, music, art works, theater arts, and others. Many of them expressed not only admiration at the diverse array of the region's cultures but also the striking similarities that each country's culture shares with one another.
One of the students, Mr. Sebastian Blake, an exchange student from the University of South Australia where he is taking up a double major (Applied Linguistics and Sociology), said he was fascinated by the art exhibit. "It was interesting to see that despite the fact that the ASEAN member countries are separate states, they all have a shared history which you can glimpse in the respective countries' art works."
As an aside, MUIC reopened its doors—after the long pandemic lockdowns—to inbound exchange and visiting students from dozens of partner universities abroad. This semester (1/2022-23), 180 exchange and visiting students have arrived in MUIC. Conversely, a significant number of MUIC students have left this semester to do their exchange studies abroad.
Another student in the group was MUIC sophomore Ms. Taksapaul Khumnil, who is majoring in Intercultural Studies and Languages with a concentration in Foreign Language (Chinese) and who is also minoring in French. Her favorite exhibit was the ASEAN Art and Culture Collection.
"It's interesting to note the origins of each cultural trait in ASEAN. Some of them came from another place and time yet they can be found in several ASEAN countries in slightly different form. For example, the Ramayana epic which came from India. It has spread to and has influenced the arts and culture in Indonesia, Cambodia, Laos, Thailand and others," she said, adding that "we should set aside our differences and build up our similarities. We should live together harmoniously."
Indeed, learning about another culture and appreciating it is one effective way of making our world a better place.
_________________
ICIC 251 Contemporary Southeast Asia: Cultural Studies is offered under the Intercultural Studies and Languages program. If you're interested in this program, you can learn more by clicking this link: https://muic.mahidol.ac.th/eng/programs/undergraduate-programs/humanities-and-language/major-in-intercultural-studies-and-languages/
If you are interested in being an outbound exchange student in one of MUIC's partner universities abroad, click here for more information: https://muic.mahidol.ac.th/eng/study-abroad/