Navigating Domestic Travel Amidst a Changing World during Covid-19
September 8, 2023
2023-09-11 6:47
Navigating Domestic Travel Amidst a Changing World during Covid-19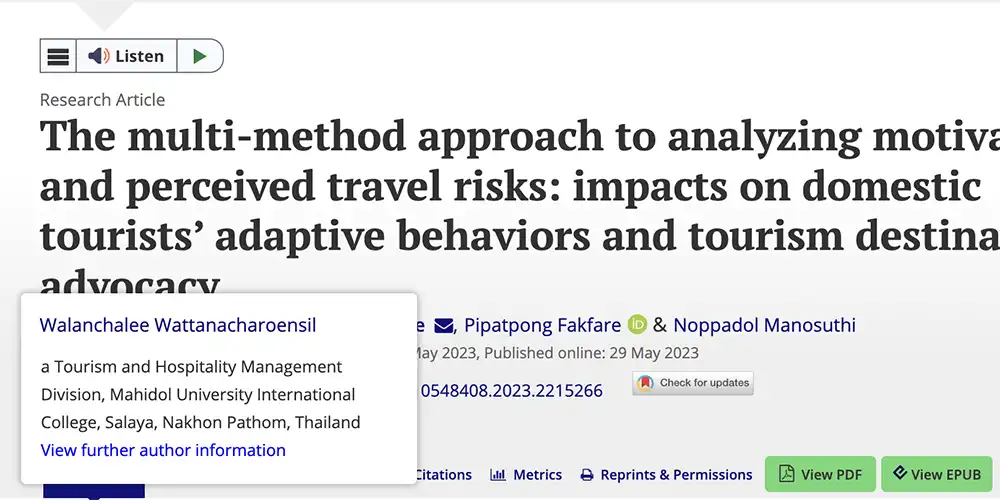 Navigating Domestic Travel Amidst a Changing World during Covid-19
By: Assoc. Prof. Dr. Walanchalee Wattanacharoensil
Between 2020 and early 2022, during the global pandemic, domestic travel underwent a significant transformation due to a complex interplay of motivations and perceived risks. Recent research concentrating on Asian travellers' behaviors has revealed crucial insights that greatly impact the tourism industry's path, particularly within domestic travel. The rise in domestic tourism can be attributed to various factors, with the pandemic-induced pause in international travel being a primary driver. This shift has led people to explore local destinations, a trend that remains even as the pandemic's end is anticipated.
This research was supported by the Global Partnering Initiative Grant – Mahidol University (MU-GPI). The study, carried out in collaboration with the School of Hotel and Tourism Management at the Hong Kong Polytechnic University, analyzed domestic tourist behaviors during the Covid-19 pandemic. One thousand participants from Thailand, South Korea, and the People's Republic of China were included in the study.
When examining the behavior of tourists, two key factors stand out in shaping travel patterns:
Risk Perception: This covers three significant risks that notably influence tourists' choices: a) overarching concerns about travel safety, b) risks posed by service providers, and c) direct threats linked to Covid-19.
Underlying Tourist Motivations: These motivations include hedonic experiences (pleasure and joy), utilitarian goals (cultural knowledge and other key tourism features of a destination), social connections (bonding with people), and self-actualization.
These elements intricately shape the cautious and adaptable behaviors exhibited by travellers, forming the core framework of this research.
As researchers delved deeper into the intricacies of tourist behaviors, evidence emerged showing connections between motivations, perceived risks, and eventual travel outcomes (i.e. adaptive behavior and support to the destination).
Interestingly, while past studies generally emphasized three primary risks influencing travel decisions, some instances from our research demonstrated that for domestic tourists, and even with the time of pandemic, just one or two of these risks (mainly service failure risk and/or threats linked to Covid-19) held enough influence to shape their behaviors. For example, a particular scenario showed that when all motivational factors interacted with the service failure risk, tourists were prompted to take precautions before their journeys.
Moreover, risks often take a backseat when promoting destinations, as travellers prioritize their individual motivations. One specific scenario suggested that motivational factors alone could encourage tourists to support a destination. This highlights a significant group of travellers who, contrary to common beliefs, are primarily driven by their inherent travel motivations rather than primarily by health and travel-related risks.
Interestingly, some tourists who were fully satisfied with a destination became enthusiastic advocates, regardless of whether they followed preventive measures during their travels.
Practical Implications for the Tourism Industry:
Insights for Marketing and Management: Understanding these intricate motivations and perceived risks is invaluable for destination marketing. It's vital to tap into utilitarian motivations, giving tourists chances to learn about a location's cultural and historical significance. Addressing hedonic and social motivations—providing relaxation spots, opportunities for socializing, and encouraging sharing experiences on social media—is equally important.
Risk Management: While certain tourist groups might not be significantly influenced by risks, there's a general consensus that risks matter, especially post-pandemic. Ensuring destinations and service providers uphold strict health and safety measures is crucial to attract a wider range of tourists.
Tools for the Future: Managing travel motivations, risks, and adaptive behaviors poses challenges, particularly during health crises. To navigate these challenges, practitioners should use advanced tools, such as interactive dashboards using text analytic techniques, to delve into travellers' thoughts. These tools can guide the creation of tailored tourism products and services that cater to evolving traveler needs.
In conclusion, the intricate interplay between motivations and risks in domestic travel, especially during a pandemic, reshapes the tourism landscape profoundly. Even though the pandemic is transitioning into a more normal phase, understanding and strategically addressing these dynamics can help the tourism industry better grasp the behavior of domestic tourists, adopt future precautions, and pave the way for a resilient tourism sector.
Reference: Wattanacharoensil, W., Lee, J. S., Fakfare, P., & Manosuthi, N. (2023). The multi-method approach to analyzing motivations and perceived travel risks: impacts on domestic tourists' adaptive behaviors and tourism destination advocacy. Journal of Travel & Tourism Marketing, 40(2), 109-130.
Link https://www.tandfonline.com/doi/full/10.1080/10548408.2023.2215266
Grant: Mahidol University: Global Partnering Initiative (MU-GPI – 2565/2022)