Online Seminar on UNESCAP Internship
October 18, 2021
2021-10-18 9:40
Online Seminar on UNESCAP Internship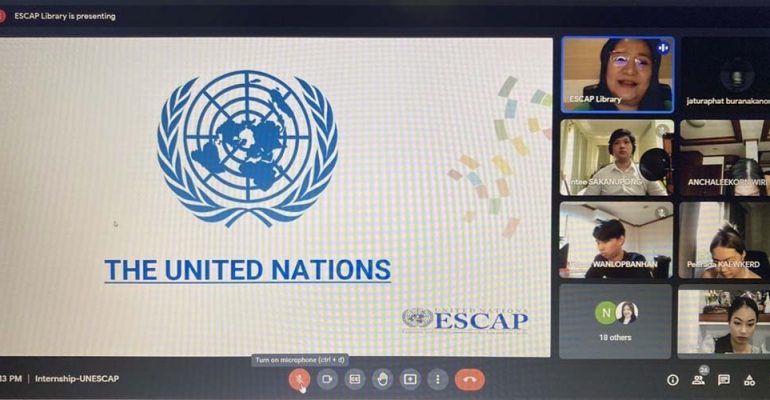 Online Seminar on UNESCAP Internship
Mahidol University International College's (MUIC) International Relations and Global Affairs (IRGA) program organized an event entitled "Meet with UNESCAP Representative" on October 15, 2021 via Google Meet.
A total of 25 students participated in the online event which featured Dr. Antika Preeyanon, Library Assistant, Communications and Knowledge Management Section of the United Nations Economic and Social Commission for Asia and the Pacific (UNESCAP). Other speakers included Ms. Ekaterina Silanteva from Russia, a former UNESCAP intern, and Ms. Rita Li from China, also a former UNESCAP intern.
Aside from giving an overview of the history of the UN, they also discussed the areas where UNESCAP is concerned. Ms. Silanteva and Ms. Li also shared their internship experiences. All of these were very informative and helpful for the students who wish to be an apprentice in UNESCAP which in turn can open doors to a future career in the UN in the future.
Students of the program said they deeply appreciate what the three guest speakers have shared with them.