Rescued Animals Inspire Biophilia Animation Team
August 31, 2023
2023-08-31 9:44
Rescued Animals Inspire Biophilia Animation Team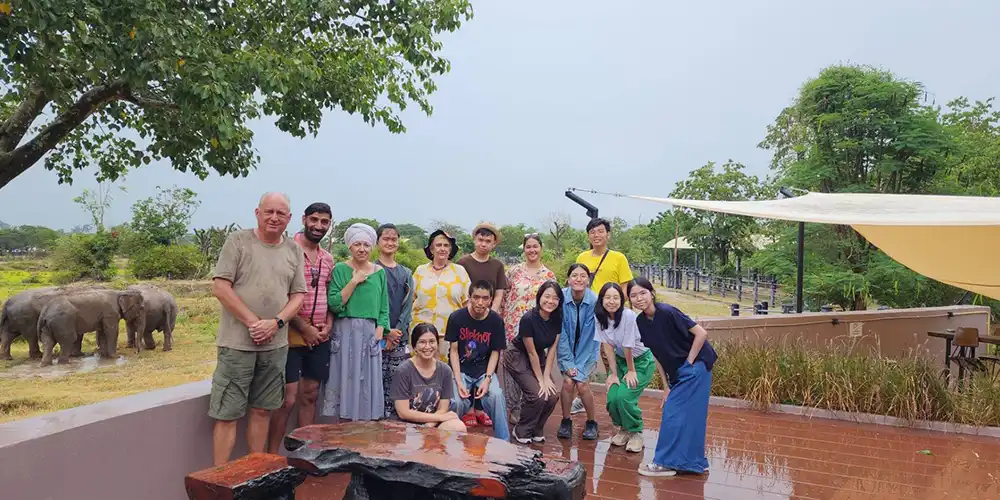 Rescued Animals Inspire Biophilia Animation Team
By Dr. Millicent Young
Nine students from several academic programs of Mahidol University International College (MUIC) were selected to participate in a field trip in Petchaburi province organized by the Wildlife Friends Foundation Thailand (WFFT) with the aim of creating content for the Biophilia 360° animation project.
The students, hailing from Communication Design, Creative Technology, Biological Sciences, and Travel and Service Business Entrepreneurship academic programs, were accompanied by Dr. Millicent Young of MUIC's Communication Design Program, Ajarn Supawan Supaneedis, a part-time faculty member and alumna of the Communication Design Program; Ajarn Kim Noce, a visiting lecturer in MUIC's Film Minor program from University of Arts London (UAL), and her partner Mr. Yaqoob Malik,all of whomserved as facilitators and directors.
The field trip, which was conducted on August 18-20, 2023, is part of the production process for the edutainment immersive animation Biophilia 360°, an MUIC SEED grant cluster research project linking science, art and technology.
The outcome from the field trip will serve as the content for a taster experience set to music performed by the Thailand Philharmonic Orchestra and to be showcased at the upcoming Beyond Animation Festival hosted by the French Embassy. Collected data in the form of drawings, video and photographs will be used in creating the hand-drawn 360° animation that reflects real places with flowers, plants, trees, and animals to deliver immersive experiences encouraging observation and curiosity-driven questioning skills.
The student-participants were:
Tanyatorn Peungtriput (Num)
Myra Lian (Myra)
Munazza Munabir (Bunny)
Sarisa Soonfueng (Kim)
Narongrit Phuwaset (Day)
Chatdanai Phobangwai (Hummer)
Worawit Chanburom (Ohmy)
Supawat Projart (Bajang)
Waristha Srisiriwongchai (V)
Dr. Young explained that the main objective of this project was to make the students understand not only drawing and animating animals but also to experience the true meaning of biophilia and thus foster a deeper appreciation of nature, habitats and the vital role that empathy plays in conservation efforts. The Wildlife Friends Foundation Thailand (WFFT) was specifically selected for the project due to the compassionate efforts of Mr. Edwin Wiek, the founder of WFFT and his team in wildlife rescue.
Mr. Mark Oftedal, Animation Director, Google Spotlight Stories, animator (Toy Story, A Bug's Life, Toy Story 2), concept artist (Monsters Inc., Storks, Inside Out) and creator of a WFFT comic book, was invited to join in the art-making session and discuss his work with the students.
During the three-day field trip, the life stories of the blind cassowary, handicapped gibbons, three-legged deer and fractured spine elephant in the WFFT camp all emotionally touched the students.
Here are some of the feedback from the participating students:
"The gorilla living in its size cage, the bear with no paws, Pailin the elephant, missing leg deer. Every story has touched me very emotionally in a good and bad way. How people could badly treat other creatures is unbelievable and how Mr. Edwin and his team rescued and gave them a new life is unbelievable as well. The empathy WFFT has showed to wildlife has totally given me a new perspective."
"I've grown more interested in elephants because I've always known that they were used for tourism. I did not know that the people manipulated the elephants when they are still babies by not feeding them and torturing them, then bringing in a 'savior' that gives them food and shows them affection. I feel like it's very twisted and inhumane. So seeing them and knowing what most of them had been through made me appreciate them so much more. I love seeing their skin textures, like how some of them would have pale dots on their faces. Some of them would sag a little and have more wrinkles. I love the way they hide behind trees and how they were just there enjoying their life in the sanctuary."
"During this trip I felt at ease sitting by trees and surrounded by animal noises. It really helped my creative juices flow, which hasn't really been flowing lately until this trip."
"The experience I got from this weekend is always the best and I will use it as a tool to develop self-confidence and other things like social skills, group-managing skills and others."
"I was so very, very inspired by our biophilia fellows, how they are from different majors but are so into art and animation. I'm now so motivated to study animation even more. I never thought my art style would be so appreciated by others. This is my first time receiving so much appreciation which boosted my energy to work harder. Looking forward to enroll in an animation class in the upcoming term."
The collaborative experience that we all shared on the field trip will add to and help to promote the need for empathy for nature and wildlife. We hope it will be shared through our animation.