Science Society Club Organizes Science Festival
June 15, 2023
2023-08-08 7:02
Science Society Club Organizes Science Festival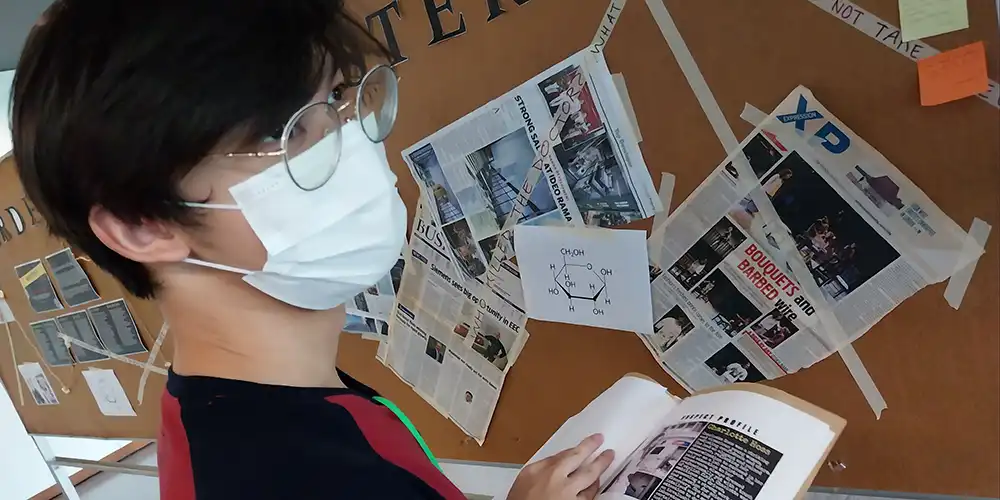 Science Society Club Organizes Science Festival
The Science Society Club of Mahidol University International College (MUIC) organized an activity entitled "Science Festival" on June 15, 2023 at the Exhibition Hall, 2nd Floor, Aditayathorn Building.
This activity aimed to make science fun and accessible to visitors of the festival. The activity allowed student members to open their own booths where they can organize their own science activities for the benefit of the visitors with a budget of 500 Baht provided by the club.
Over 50 students and teachers visited the Science Festival. There was a total of five booths: Mini-Terrarium Making, DIY Fossil, Murder Mystery, Science Bingo, (Non) Beer Pong ft. Science Trivia, with the first two conducted by students and the rest conducted by the club committee members. In addition, the event featured corners for visitors to put up their Science Fact and the latest update on science in each field. All visitors must vote for their most favorite booth; everyone had the chance to win lucky draw prizes by voting. A total of 33 students participated in this event.
On June 20, 2023, the winning booths were announced with DIY Fossil by Thanaphol Lohachitpitaks (majoring in International Business) winning 1st Place and receiving 3,000 Baht cash prize and the Mini-Terrarium Making team composed of Natnicha Taweerujirot (majoring in Marketing) and Narongrit Phuwaset (Creative Technology) winning 2nd Place and was awarded the 2,000 Baht cash prize.
The club said it hopes that every participant learned and enjoyed much the Science Festival and expressed gratitude for the support that the club received. It added that it looks forward to seeing the participants again in the next activity.
List of Lucky Draw Winners:
1. Siriwat Jurapongvanich (Food Science and Technology)
2. Rasika Aramvejanan (Computer Science)
3. Pranpanath Indee (International Relations and Global Affairs)
4. Sasithonsiri Sombatsiri (Finance)
5. Robert Blum (Computer Science)
6. Kim Margarethe Gross (International Relations and Global Affairs)
List of Plushie Prize Winners:
1. Kim Margarethe Gross (International Relations and Global Affairs)
2. Rasika Aramvejanan (Computer Science)
3. Austin Jetrin Maddison (Computer Science)
4. Sara Jamal Mohamed (not stated)
5. Lasee Leenutaphong (Computer Science)
6. Pakamon Suthaporn (International Relations and Global Affairs)
7. Chanarat Trironnarith (International Business)
8. Narongrit Phuwaset (Creative Technology)
9. Thammarat Lapprakobkit (Biological Sciences)
10. Siriwat Jurapongvanich (Food Science and Technology)
Get updated with Science Society Club activities through its social media channels:
Line OpenChat: shorturl.at/enry4
Instagram: muic_ssc