MUIC Job Fair and Study Abroad Fair 2023
January 13, 2023
2023-01-30 8:14
MUIC Job Fair and Study Abroad Fair 2023
MUIC Job Fair and Study Abroad Fair 2023
MUIC Online Job Application
MUIC Study Abroad Fair 2023
MUIC Job Application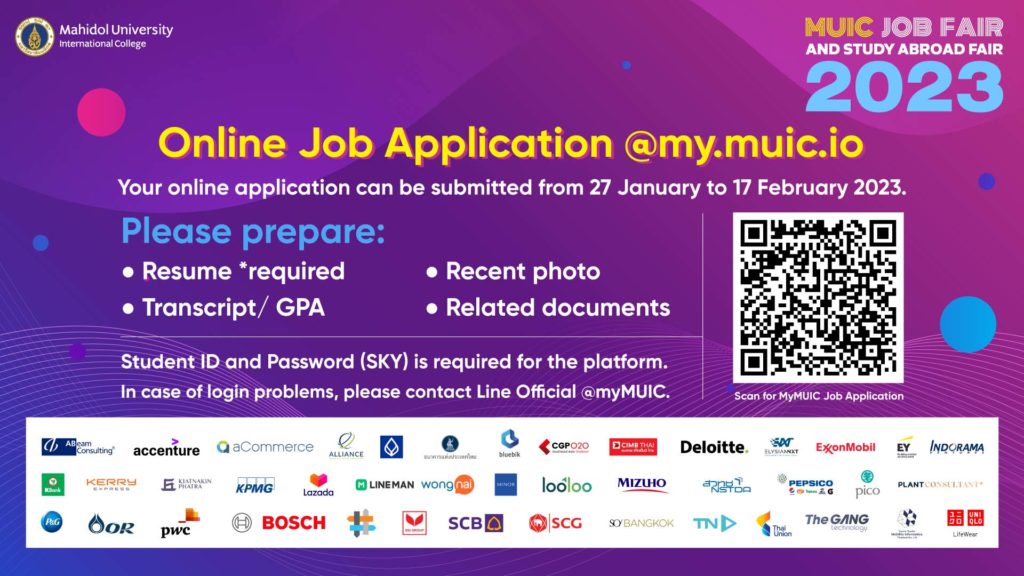 We have a platform where you can upload and contact  many organizations automatically. Be ready to prepare your resume and have your most current transcript at hand.
Here are the easy steps to follow:
Fill out the required information.
Select the position and company you want to apply for.
Then apply for it.
You can check your job application at job application history.
Remarks:
Once you have completed your registration in the MY MUIC Job Application system, you can apply for more than one position at the same time. However, we recommend you to try not to apply for more than two jobs at the same company at the same time.
Please note that the companies marked with * require you to submit your application form to them directly. You can access the link provided in the system.
In case you forget your username and password, please proceed as follows:
Click "Forgot Password." The system will send the automatic message to your admission email account . Then click the link to reset credentials.
In case you do not remember your admission email account, please contact Line Official @myMUIC to request for an alternative email account. Please provide your name, surname and your student ID to the staff, and tell them that you want to change your email account in order to register for "MY MUIC Job Application."
MUIC Job Fair 2023
List of Companies Joining Our Fair
Find the right job and explore your career pathways. Join our job fair on January 25-26, 2023 at Exhibition Hall (2nd fl.), Aditayathorn Building, MUIC.
MUIC Study Abroad Fair 2023
List of Universities and Agencies Joining Our Fair
Navigate your options and begin your journey with us. Join our study abroad fair on January 25-26, 2023 at Reception Hall (1
st
fl.), Aditayathorn Building, MUIC.