Students Compete in Video Contest on Dangers of E-cigarette
September 10, 2021
2021-09-10 9:08
Students Compete in Video Contest on Dangers of E-cigarette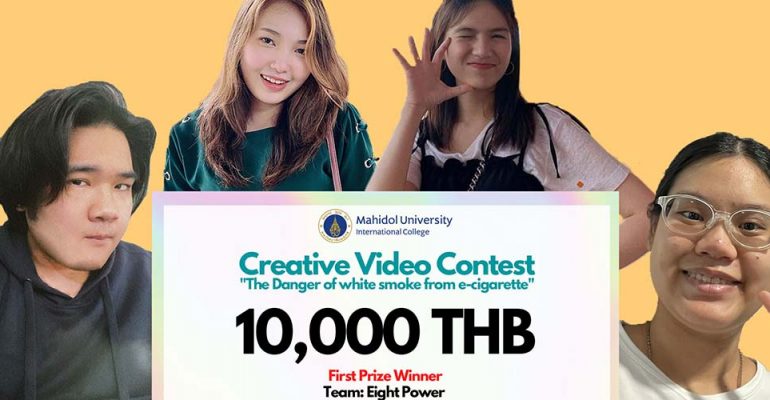 Students Compete in Video Contest on Dangers of E-cigarette
The Office of Student Affairs of Mahidol University International College (MUIC) held a video contest entitled "The Danger of White Smoke from E-cigarette" from May 13 to July 29, 2021.
The winner was Team Eight Power consisting of: Mr. Khoonpon Meechanchuang, Ms. Jasmine Khaothong, Ms. Puncharat Sukchai, and Ms. Supicha Kanjanapinchote. They received certificates and 10,000 Baht cash prize.
"Our team sees the dangers that young people can face from using e-cigarette. That is why we produced a meaningful video that shows the disadvantages of using it," the team said.

Chosen as 1st Runner-up was Team The Three Bears composed of: Ms. Sita Rieantragul, Mr. Puttipong Leewiboonsin, and Mr. Camin Kanchanawuthitham. They received certificates and 5,000 Baht cash prize.

Selected as 2nd Runners-up were Team Khan Kluay composed of: Ms. Pimpapha Wathanakanchana, Ms. Tanachat Siriprachapanich, Mr. Thanaphat Petchpraphai, and Mr. Marvin Henry Maria Brucher; and Team ICGS139 composed of Mr. Chutithep Khiewpakdee, Mr. Kulnapruek Kungwol, Mr. Peerawat Sasalaksananon, and Ms. Wichayakan Jaroennonthasit. The two teams received certificates and 3,000 Baht cash prize.

Meanwhile, Honorable Mention Awards were given to Team ALGY composed of: Mr. Keeradhit Wongwutthikrai, Mr. Tulatorn Somkeawvarn, Ms. Supischa Utamapetai, and Mr. Suranat Kawlaong; and Team Waste composed of: Ms. Dullaya Kunprakan, Ms. Prannada Jirapoomdech, Mr. Natakorn Ackpipattana, and Ms. Suprawee Thirarueangsit. The teams received certificates and 1,000 Baht cash prize.
A total of 10 teams joined the competition.