The First Social Science Alumni Dinner
March 9, 2020
2020-03-09 2:59
The First Social Science Alumni Dinner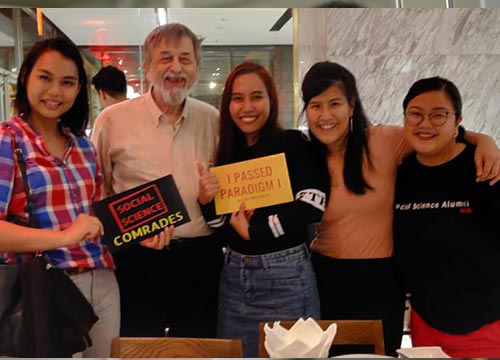 The First Social Science Alumni Dinner
The first Social Science Alumni Dinner was held on Thursday, the 23rd of January 2020, at Laem Charoen Seafood Restaurant at Central World. This provided the chance for our graduates, current students, and faculty members to interact in a casual atmosphere over the delicious seafood dinner.
The number of participants had exceeded the organizers' expectation. There were 58 people who joined the evening including 42 Social Science alumni, 11 current students, and 5 faculty members. We were also honored by the presence of our faculty members, especially Dr. Peter Smith, who served as the first Chairman of MUIC's Social Science Programs from 1998 to 2013.
Alumni from many batches who are now working in various career fields came to this gathering. Paniti Tiengtrong, a graduate from 2007, said, "The recent Alumni Dinner reminded me so much about our good old times with our favorite teachers like Peter and Marja-Leena and our memory when we were wandering around the SS corridor. I and a few of my friends were so proud to be among the early batches of Social Science Alumni who showed up on that day. It was such a great opportunity to 'meet, talk, tease, and laugh,' together again." Paniti is now the Deputy Director of Asylum Access Thailand, an international NGO that dedicates its work to help refugees around the world.
Another recent graduate, Meredyth Khin Yadanar (2019) also shared her experience from the evening. "It is rare that we are all in town and available at the same time, which made the alumni gathering truly memorable. I had an amazing time catching up with fellow Social Science comrades and felt right back at home with people whom I've spent good (and bad) years with. Wouldn't have missed this get-together for anything else!" Meredyth is currently working with the FinTech organization, Inception Technology, as a data analyst.
The main objective of the Alumni Dinner was to build rapport among them and to give the opportunity to exchange career advices, particularly to recent graduates and current students.
One of our senior students, Jidapa Pruksarungruang, said she has gained valuable career advice from the seniors she met on the day. "I learned much from our alumni's direct experiences in various career fields. They also gave me advice from how to apply for postgraduate schools to what kind of jobs are available for Social Science graduates. It was really a wonderful opportunity."
Throughout the evening, the restaurant was filed with our laughter and smiles. Following this success, the organizing committee is now planning future activities that will involve more of the alumni's participation. Until our next event, keep in touch with each other, Social Science Comrades!
By Dr. Natanaree Posrithong