Women Leaders on Women's Rights in IRGA Roundtable
June 27, 2023
2023-06-27 9:01
Women Leaders on Women's Rights in IRGA Roundtable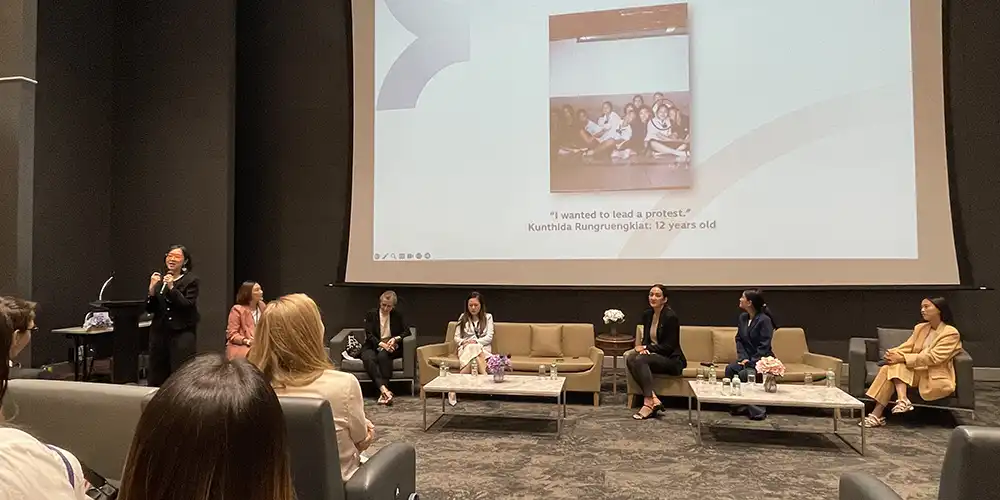 Women Leaders on Women's Rights in IRGA Roundtable
As part of its Gender Festival, the International Relations and Global Affairs (IRGA) Program of Mahidol University International College (MUIC) held a roundtable discussion entitled "Women's Leadership in Politics, Diplomacy and Law" on June 13, 2023.
The organizers invited six panelists representing various professions yet with a common denominator—the challenges they face as a woman in today's society. The Screening Room in Aditayathorn Building, which served as the venue for the event, was filled up with students and faculty members.
The panelists were: H.E. Anna Jakenberg Brinck, Minister Counselor and Deputy Head of Mission, Embassy of Sweden; Ms. Saranya Tangwongkit, Country Program Coordinator (Thailand), UN Women; Ms. Kunthida Rungruengkiat, Director, Progressive Movement Foundation; Ms. Tisana Choonhavan, newly-elected Member of Parliament (Move Forward Party) and MUIC Social Science Alumna; Ms. Jomtien Jansomrag, Program Officer, Raks Thai Foundation; and Ms. Rukchanok Srinork, newly-elected Member of Parliament (Move Forward Party).
The guest speakers narrated their life stories, focusing on the challenges they have faced as a woman and how their experiences motivated them to support the continuing campaign for women's rights. Minister Brinck discussed the progress achieved in Sweden of women breaking the proverbial glass ceiling. Ms. Saranya, on the other hand, shared how her job in an international organization based in Sri Lanka two decades ago motivated her to stay on and devote herself to the promotion of human rights. Ms. Kunthida talked about her experiences studying in Finland and how her exposure to Western values influenced her to struggle against the norms that Thai society has imposed on her as a daughter, a teacher, a politician, and a woman. Ms. Rukchanok echoed the same observations especially the prevailing double standards against women imposed by religious beliefs and family traditions. Ms. Tisana, on the other hand, described how her education in MUIC's Social Science program and abroad made her into a firm advocate for political changes and eventually propel her to a seat in parliament. Ms. Jomtien narrated how the abuses she had endured as a young child led her to become actively involved in organizations that provide protection for abused women.
The panelists later on engaged with the audience during the open forum as several students asked them questions about women's rights.
______________
If you interested in pursuing a career in international relations, MUIC's International Relations and Global Affairs (IRGA) Program would be the perfect major for you. For more details, click here: https://muic.mahidol.ac.th/eng/programs/undergraduate-programs/social-science/