As MUIC shifts to online classes as a precaution to the Covid-19 pandemic, it pays to be well-prepared, from assuming the right mindset to getting your learning tools and technology ready.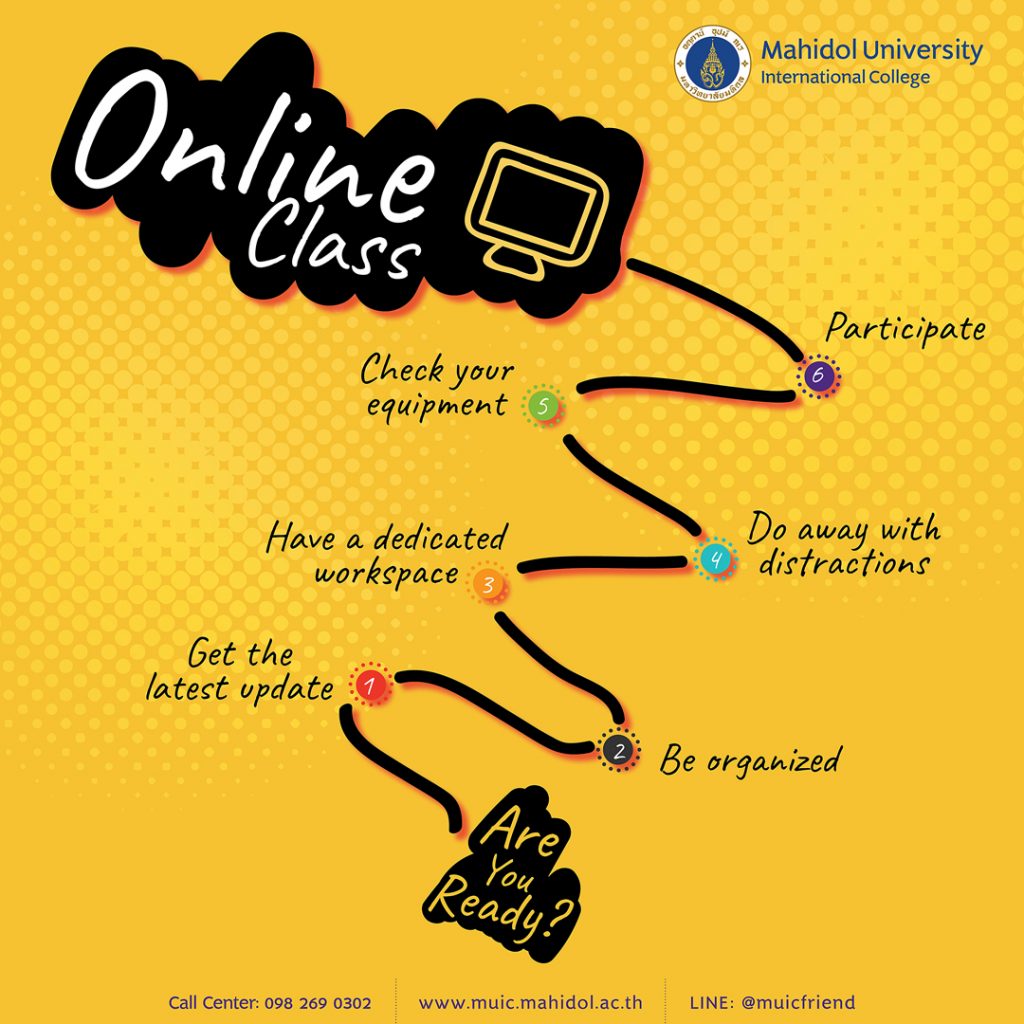 Forewarned is forearmed. Make sure you're aware of the latest in your respective classes by checking the learning management system your teacher uses (i.e. Google Classroom, MUIC's e-Learning, etc.) and/or email account, Line or Facebook PM, whichever is used in your own class, for any last-minute announcements.
Taking online classes is no joke. It requires more self-discipline compared to in-person classes. One way to ensure you'll have a successful online learning experience is by being organized. Keep important lists, formula sheets, vocabulary terms in one place, organize your notes, use tabs to mark your e-books, and prepare for your online exams as if it would be done in person. Plan your day and stick to your schedule.
3. Have a dedicated workspace
You're in it for the long term. "Attending" online classes while slouched on your sofa might be cool at first but sooner or later you need to have a specific workspace. It might be the dining table or a computer desk, but it will help your brain know that when you're in that workspace, you need to focus on studying.
4. Do away with distractions
Are you logged on to your Twitter, Facebook, Line, Instagram or other social media platforms when you're in class? Perhaps. Is it productive? No. Turn off or mute your social media notifications, put your smartphone away, log off Netflix, and focus on your online studies.
Familiarize yourself with the virtual classroom tool you're going to use, i.e. Zoom, Webex, etc. Do a test run with a friend and get acquainted with the controls. Make sure your WiFi signal is strong. If you get disconnected from the Internet, don't panic. Just log back in. Having technology problems just as your paper is due? Message your instructor about it while you're having it fixed.
Read your e-books and other study materials provided by your instructors. Listen carefully to the online lectures. Ask questions as needed to clarify important points. Online learning presents its own unique learning challenges, and seeking your instructor's help would be really productive on your part.