BBA Program Holds Talk in Collaboration with SET ESG Expert Pool
June 5, 2023
2023-06-08 9:22
BBA Program Holds Talk in Collaboration with SET ESG Expert Pool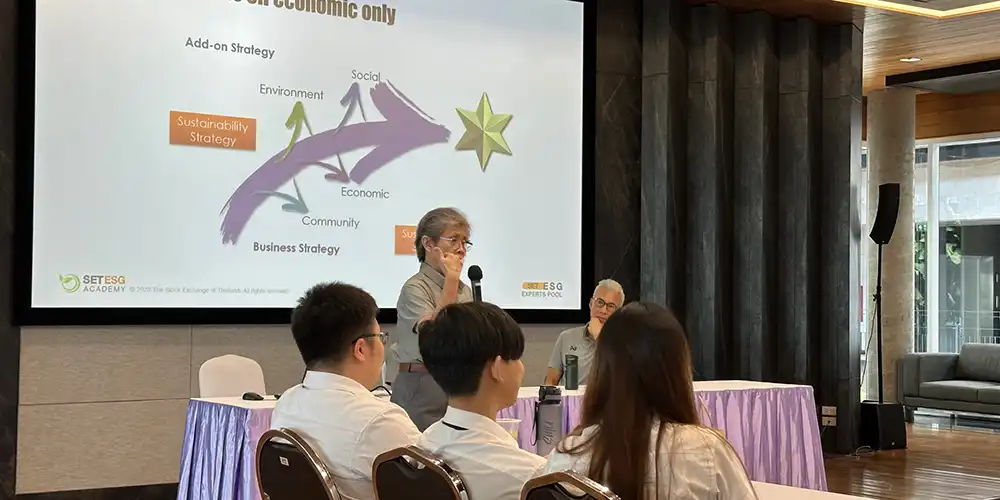 BBA Program Holds Talk in Collaboration with SET ESG Expert Pool
On the occasion of the World Environmental Day 2023 held on June 5th, the Bachelor of Business Administration (BBA) Program of Mahidol University International College (MUIC) hosted three distinguished guest speakers with extensive experience in management and sustainability: Mrs. Punsiri Suttienkul, Mr. Patai Porapakkham, and Dr. Saranthinee Mongkolrat at Charinyarasami Hall, 3rd Floor, Aditayathorn Building. The session, organized in collaboration with the Stock Exchange of Thailand (SET), was part of the course on Market Structures and Pricing Strategies, conducted by Asst. Prof. Dr. Isabel Pereira Rodrigues.
The event aimed to shed light on the indispensable significance of the Environmental, Social, and Governance (ESG) framework in achieving sustainable and prosperous outcomes for businesses.
The lecture commenced with an insightful keynote address on the role of business towards the Environment, by Dr. Saranthinee Mongkolrat, Innovation and Sustainability Manager for Salee Colour PCL. With more than 15 years of experience in many areas of management, including healthcare, Dr. Saranthinee Mongkolrat showed several real-life examples on the positive impacts of the circular economy.
Mr. Patai Porapakkham, an industry veteran and highly experienced in management at global companies, emphasized the pivotal role of the Social dimension of the ESG framework.
Mrs. Punsiri Suttienkul, an experienced professional in executive management positions for over 30 years, took the stage next, captivating the audience with the discussion of the Governance dimension as well as with real-world examples of companies that have successfully integrated ESG principles into their strategies and operations.
The concluding statements were delivered by Ms. Pimpan Diskul Na Ayudhya, from SET, who highlighted the key role of the ESG framework in addressing the complex challenges faced by businesses and societies in the modern era.
The event provided a unique opportunity for the engaged audience of business students and lecturers to interact with and learn from these prominent speakers. Through lively discussions and case studies, the attendees gained valuable insights into the practical application of ESG principles across diverse industries.
MUIC expressed its appreciation of all the distinguished speakers, as well as to the SET team and looks forward to welcoming them again in the near future.