Biodesign Competition on Medicine and Health for MUIC, Siriraj Students
April 25, 2022
2022-06-22 8:50
Biodesign Competition on Medicine and Health for MUIC, Siriraj Students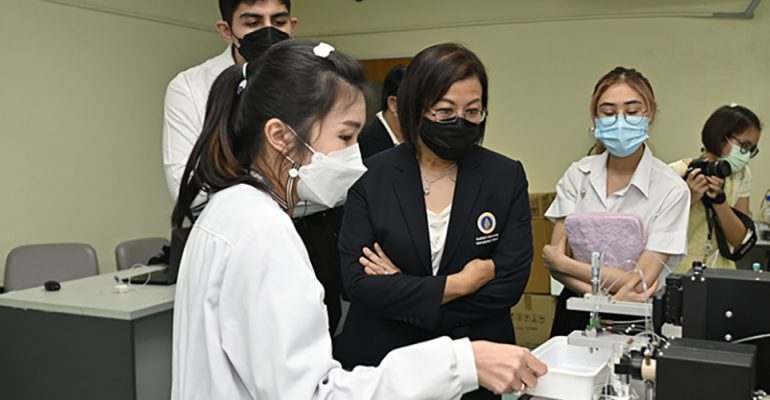 Biodesign Competition on Medicine and Health for MUIC, Siriraj Students
Mahidol University International College (MUIC) and the Faculty of Medicine Siriraj Hospital, Mahidol University have joined their resources together to come up with a competition that would not only be a valuable learning experience for students but also contribute much to the wider community. It is also the first such competition in Thailand.
The "SiIC (Siriraj-MUIC) BioDesign Competition on Medicine and Health" will see students from both institutions present their scientific and innovative solutions on bio-design issues that will be very valuable for medicine and health.
In a ceremony held on April 25, 2022 at the Adulyadejvikrom Building, Faculty of Medicine Siriraj Hospital, Mahidol University, and zoom meeting, Prof. Chulathida Chomchai, M.D., MUIC Dean gave the opening remarks while Assoc. Prof. Dr. Anchalee Tungtrongchitr, Head, Department of Parasitology, Faculty of Medicine Siriraj Hospital, Mahidol University discussed the collaborative effort between the two institutions.
Asst. Prof. Dr. Chayanant Hongfa, MUIC Associate Dean for Student Affairs, gave a talk on "Bio-Design Course at MUIC: Present and Future" while Ajarn Wimonsiri Hemtanon, MUIC Assistant Dean for Student Affairs, served as emcee for the contestant's info session and also introduced the workshop team. This was followed by a Q&A session and a walking tour of the facilities.
The Faculty of Medicine Siriraj Hospital has a bio-design course described as an innovation class that is committed to developing technologies that could transform health care products. It combines innovations in medicine and interdisciplinary studies.
Aside from generating biodesign concepts that have practical use, this contest aims to help participating students to learn and acquire more experience in conducting the prototype process, benefit from the group work involved, develop academic networking, and promote collaboration between students of the two institutions.
Competitors—organized into groups of 3-5 members each with at least two majors—will select one of two topics and then proceed to prepare a prototype for pitching. It is either a prototype on solving health issues caused by PM 2.5 or lowering the waiting time at Siriraj OPD. It is hoped that these will increase solutions to PM 2.5 and also help Siriraj Hospital to enhance its service to patients.
The activities include three workshops collectively called the Design Thinking Workshop in May and June with faculty members of MUIC and the Faculty of Medicine Siriraj Hospital acting as trainers. Pitching Day would be on June 24.