MUIC SAT Test Center's Covid-19 Prevention Protocol on May 7, 2022
April 22, 2022
2022-04-22 6:05
MUIC SAT Test Center's Covid-19 Prevention Protocol on May 7, 2022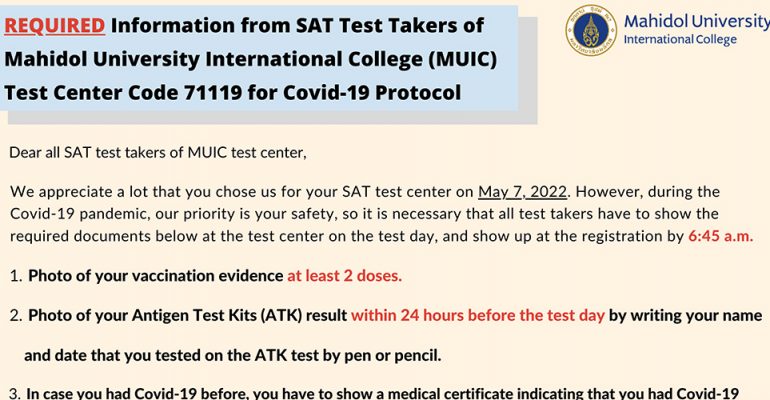 MUIC SAT Test Center's Covid-19 Prevention Protocol on May 7, 2022
MUIC SAT test center will operate SAT test center on May 7, 2022 by following Covid-19 prevention protocol. All test takers should show up at the registration by 6:45 a.m. The test center requires the following evidence from all test takers
1. Photo of your vaccination evidence at least 2 doses.
2. Photo of your Antigen Test Kits (ATK) result within 24 hours before the test day by writing your name and date that you tested on the ATK test by pen or pencil.
3. In case you had Covid-19 before, you have to show a medical certificate indicating that you had Covid-19 before and have been treated in the past 1 – 3 months.
*If students do not show up all required evidence, they cannot enter the building in all cases*
For further information, please contact email: TestCenter@mahidol.edu or phone: (+66) 84-656-6810