Workshop 5: Developing Competencies for Future Workforce Post-Covid-19 Pandemic
May 13, 2021
2022-05-15 17:18
Workshop 5: Developing Competencies for Future Workforce Post-Covid-19 Pandemic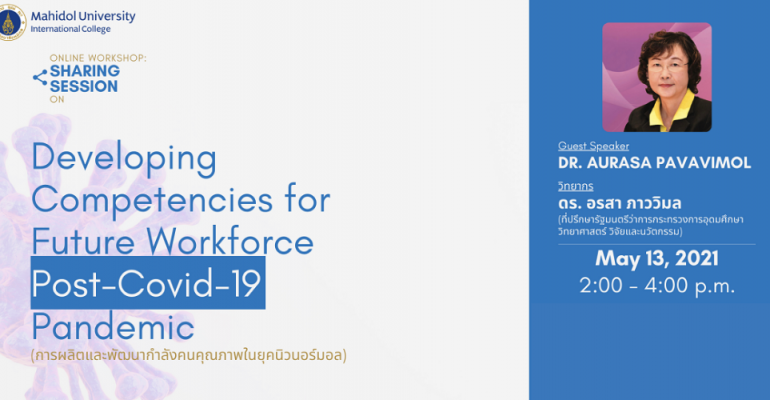 Workshop 5: Developing Competencies for Future Workforce Post-Covid-19 Pandemic
Date & Time: Thursday, 13 May 2021 from 2.00 a.m. – 4.00 p.m.
Conductors: Dr. Aurasa Pavavimol
The Strategy and Academic Development Section under the OAA and the Science Division organized its 13th workshop for the academic year of 2020-2021 entitled 'Developing Competencies for Future Workforce Post-Covid-19 Pandemic'. The purpose of this workshop was to recognize the shifts in working market, the roles of CWIE regarding graduates' employability, and how to prepare the students for the future work post-COVID-19 pandemic.
In a fast-changing world, all organizations across industries and the employment levels have long faced to undergo changes, either to lesser or greater degrees. Part of this change is about organization as a whole; people, cultures, process, tools, business strategies and structures, and more. Plus, the rise of the internet and technology has accelerated these changes and disrupt industry after industry. In 21st century, skills sought by the recruiters include problem solving, teamwork, communication, information technology application, leadership, professionalism, lifelong learning, and social responsibility. Suffering from a shortage of work-ready and skills graduates, a vast majority of higher education institutions are providing a work integrated learning (WIL) programs, aiming to combine a field of study with practice of work. Some examples include clinical placements, internships, practicums and fieldworks. Aside from improving the employment prospects by developing skills relevant to an occupation, WIL can also increase student confidence and provide a glimpse into the working world of chosen occupation. Some well-known types of WIL, such as applied research projects, apprenticeships, co-operative education programs, and internships, has been offered across the educational institutions around the world.
Thailand, under the guidance and instruction of MHESI – namely, the Ministry of Higher Education, Science, Research and Innovation, has actively pushed forward a curriculum called 'CWIE' (cooperative and work integrated education). As part of WIL program, it is the curriculum designed by higher education institutions and industries attempting to prepare the next generation of global graduates and professionals. It provides quality programs within the model of co-op, including all the other forms of experiential education such as Sandwich Course, Practicum, and Post-Course Internship. Besides classroom learning, graduates will be provided with practical career work experience, and equipped with competency in terms of knowledge, skills, attitudes, and values that satisfy the needs of the future work market.
The CWIE curriculum model is based on the platform called Manpower Demand Driven Education Platform for Employability and Career Development: university-workplace engagement. It has five interrelated processes developed under the cooperation of five parties (higher education institutions, public/private sector, community, and civil society) as follows:
1. Information – It's concerned with providing information to build the understanding and connection between student, higher education institution, and external organization, to make sure every relevant parties share the same idea and value of CWIE.
2. Matching – This step is where 'supply' meets 'demand', meaning that the institutions are paired up with the industries that share a common vision and value.
3. Co-design and implementation – the process where the companies and academic institutions co-design the curriculum, and reach agreement on the matter of the student's expected competencies, the administrative system, standardize evaluation, and other details on how the co-designed curriculum should be operated.
4. Assessment and Development – this step involves assessing student performance and curriculum management system, in order to improve the program according to PDCA (Plan, Do, Check, Act) cycle.
5. Outreach Activities – this final step dedicates to advocating, branding, and developing of CWIE regarding the economic and social value through, for example, developing curriculum to arm student for the future career, improving the quality of CWIE to meet the global standards, motivating students to develop their entrepreneurial careers, and conducting in-depth research for promotion and development of industries under CWIE program.
Post-Covid-19
The change in organizations today has become inevitable due to the dynamic and changing nature of market environment. Companies are driven to rethink their strategies, models, and approaches, to the point where the impact can be felt across all sectors. Besides, the advance in technology is likely to accelerate this transformation even faster.
Not only do the business-owners face challenges to keep up with the changes, the higher education institutions are also struggling to keep their heads above water amid global market transformation, declining enrollment, and a dated curriculum that might no longer be able to satisfy the market nor the prospective students.
In addition, with the arrival of COVID-19, the pandemic has profoundly altered and brought many changes. People are witnessed shifting to remote working and learning, embracing the new normal. Massively impacted, companies in every industry have forced to look for different qualities and skills from their future employees. Across all levels of employment, the pandemic left its imprint on how the higher education institutions should operate and produce their graduates, especially in the matter of the professional skills and the desired attributes.
Before the COVID-19 outbreak, Oxford Economics report on Global Talent 2021 has predicted that the most in-demand skills over next five to 10 years are digital, agile thinking, interpersonal and communication, and global operating skills. However, the permanent disruption caused by COVID-19 has put special emphasis on these following aspects:
1. digitization, digital transformation, and adoption – as the scenario where people turn to virtual world for remote working is likely to continue even after the pandemic subsides, the future graduates are expected to not only possess extensive and up-to-date digital skills, but also have a skill to work remotely, to self-motivate and self-manage, and to collaborate with others using a wide range of communication tools.
2. skill development and lifelong learning – as a human capital in 21st century, graduates need to possess four literacies; English, digital, financial, and social literacy, in order to become people with global mindsets/skill sets, and a life-long learner who can reskill and upskill their competency for the new way of working.
3. in-demand industries and global partnerships – The STEM jobs becomes really sought-after due to the increasing use of digital tools. Universities are required to not only deal with the increase in demand for teaching in such fields, but also prepare its members to produce the relevant researches. The pandemic stresses the importance of working hand-in-hand, regardless of sector and level. It also enables people to recognize the importance of human capital, and the need to continuous self-improvement to become a global citizen who possess global skillsets, which are the ability that allows them to work/compete in the global level. Besides, the COVID-19 is highlighting the importance of the collaboration between academic institution and industries in national, regional, and international level. The aim to remain at the forefront of the global race of RDI (research, development, innovation) needs to be reconsidered, and expanded to M (manufacturing) in order to bridge the gap between the academic communities and real world industries.
Future Work Post-COVID-19
Countries around the world saw its number of graduates have experienced downturns in employment. More new graduates in Thailand are likewise projected to become jobless due to the slump in the global economy and domestic consumption. However, some companies stated that layoffs are just a part of 'organizational reconstructing' for bringing in automation and AI into the workplace. Furthermore, graduating the midst of COVID-19 outbreak doesn't help solve these problems. The class of 2020, and 2021 found themselves unable to keep the job, or even get one. The unemployment rate has spiked and forced all stakeholders to change the way they plan, teach, guide and work with students and industries.
Prior to the pandemic, CWIE model has already been adopted into hundreds of academic institutions in Thailand for almost two decades. More than half of them produce almost 60,000 graduates who possess the in-demand skill sets, and can actually work in the industries. Besides seeking to double the number of graduates under CWIE program, at least 100,000 graduates in 2023, MHESI also initiated job creation program and allocated over 3,000 million baht as research funding, and upskilling and reskilling schemes as response to the pandemic.
Apart from MHESI, public and private sector have promptly forged partnerships to increase the availability of distance learning, new training schemes and allocate necessary resources for alleviating skills and labor shortages in areas heavily hit by the crisis. It believes to develop resilience and preparedness of the relevant stakeholders for the future shock, get the graduates ready as they embark their journey on job hunting, and achieve 2030 Sustainable Development goals.