Documentary Film on Plastic Pollution
October 16, 2021
2021-10-16 8:20
Documentary Film on Plastic Pollution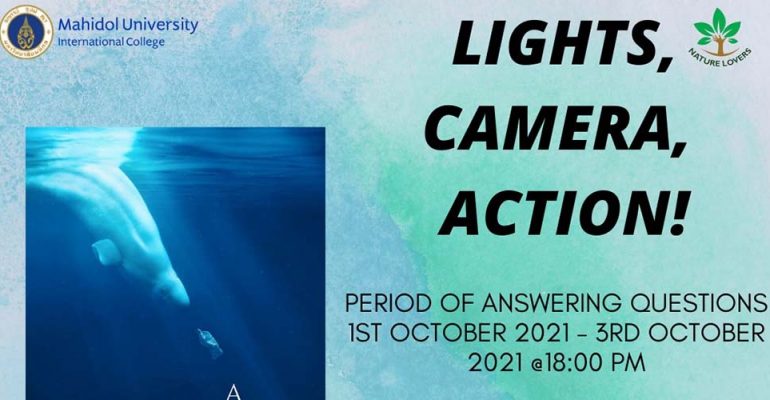 Documentary Film on Plastic Pollution
Participants were asked to watch a documentary film available on Netflix called "A Plastic Ocean" and at the end of the week answer questions related to the movie and the concept of "Plastic Pollution."
Participants with the highest scores were entered into a lucky draw system and three winners were chosen to each receive 500 Baht cash prize. There were 24 participants with the highest scores.

"Lights, Camera, Action!" was the first activity organized by Nature Lovers Club for Academic Year 2021 – 2022. It was a very successful event that ran from September 27 to October 3, 2021. Around 80 MUIC students participated.


The winners are: Patcharapa Kudeesri, majoring in Finance; Chaninthorn Phongsinghwithaya, majoring in Biological Science; and Pattarawadee Yuhong, majoring in International Business.

"A Plastic Ocean" is a 2016 documentary that explores the impact of plastic
pollution in the oceans. The club aimed at educating participants on the short term and long term problems that plastic pollution causes.
The organizers said the activity was successful based on the feedback they received from many participants as shown by comments like, "Honestly I think that this activity is actually beneficial. I haven't said this to any activity in a while. Thanks for being the voice to bring out more change!"