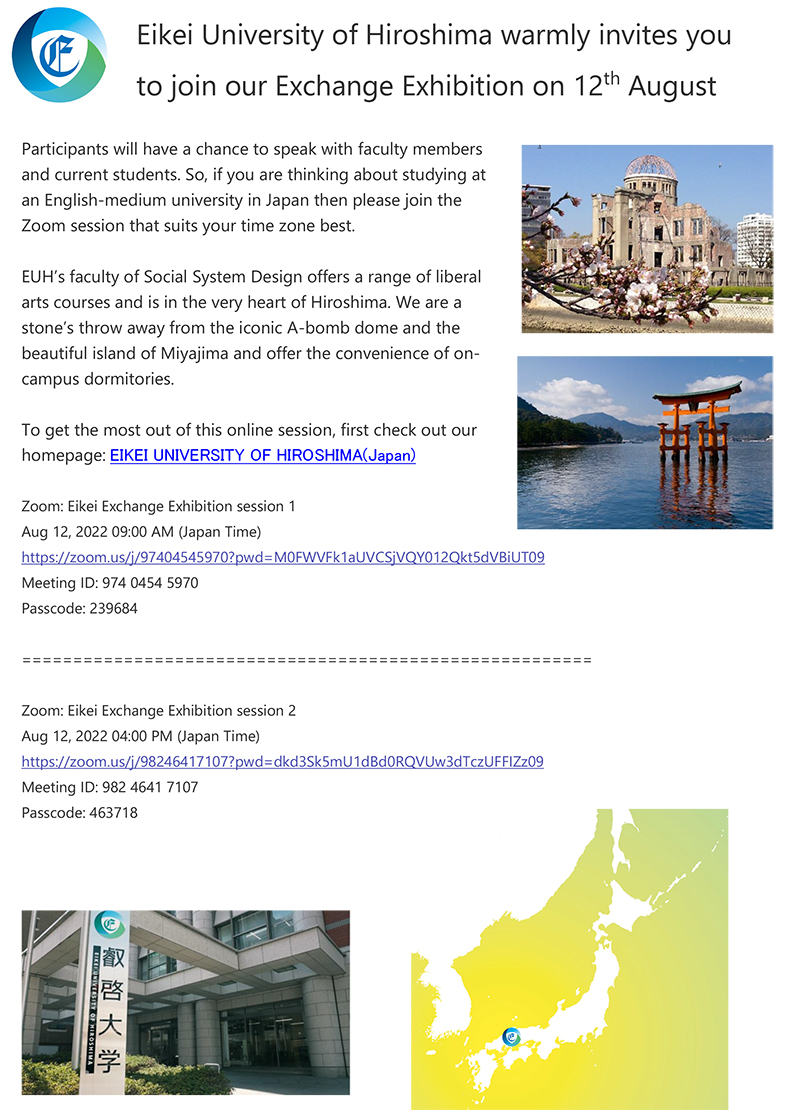 About The Event
Dear MUIC students,
The International Affairs is pleased to invite you to join Eikei Exchange Exhibition via online platforms provided by Eikei University of Hiroshima, Japan. on the 12th of August 2022.
At this event, students can learn about what people do in Hiroshima and what MUIC students might expect as an exchange student by talking to faculty and current students.
So, if you are thinking about studying at an English-medium university in Japan then please join the Zoom session that suits your schedule best.
Zoom: Eikei Exchange Exhibition session 1
Aug 12, 2022 07:00 AM (Thailand Time)
https://zoom.us/j/97404545970?pwd=M0FWVFk1aUVCSjVQY012Qkt5dVBiUT09
Meeting ID: 974 0454 5970
Passcode: 239684
Zoom: Eikei Exchange Exhibition session 2
Aug 12, 2022 02:00 PM (Thailand Time)
https://zoom.us/j/98246417107?pwd=dkd3Sk5mU1dBd0RQVUw3dTczUFFIZz09
Meeting ID: 982 4641 7107
Passcode: 463718
To learn more about Eikei University of Hiroshima, please visit https://www.eikei.ac.jp/english/