FINO THE RANAD: The song of Passion
November 30, 2022
2022-12-01 7:14
FINO THE RANAD: The song of Passion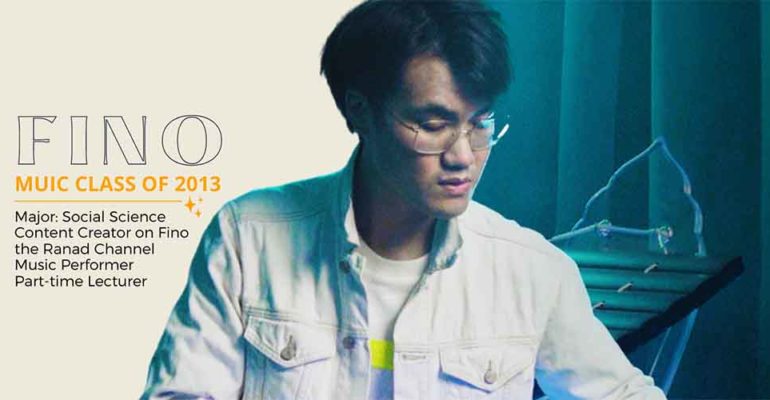 FINO THE RANAD: The song of Passion
Please introduce yourself. What do you do?
I am Pajera Patanasiri or Fino. I am currently a content creator on Fino the Ranad's social media channels, including YouTube, Tiktok and Facebook. I rearrange and perform "ranad ek" or Thai xylophone on my channels, so that makes me a music performer as well. I also work as a part-time lecturer in media, communication and music.
When did you start playing a Thai musical instrument?
Actually, I did not start with a Thai instrument. My first instrument that I learnt was electone. It was when I entered primary school that I started to learn my first Thai instrument, which was "khlui" or Thai flute. Then, in 2004, the movie, "Homrong (The Overture)" was a big hit. It was about the legendary Thai musician, Sorn Silpabanleng who played "ranad ek." This movie inspired me to learn this instrument, and I have been playing "ranad ek" since then. Apart from "ranad ek," I can also play other Thai instruments, such as gong, "khim," "jakae" and "saw."
What made you create the "Fino the Ranad" channel?
When I was in my fourth year at MUIC, I founded the MUIC Thai Music Club. To make Thai music more attractive to the international students, I had an idea to make a cover version of the international song, Canon Rock, with "ranad ek." I recorded myself playing this song and uploaded on YouTube just to show to my friends. Surprisingly, this video clip went viral, and it became the starting point of my channel. Based on my viewers' comments, the strength of my channel is its ability to present a new look and perception towards traditional instruments with my unique style of music, lighting and video production.
As you also have experience related to educational field, what do you think would be the trend of education in the future?
Differently from the past, the trends of the education in the future would be more about active learning, student-centric and personalized learning. Since many theories can be found on the Internet, skills would be more important for the students.
How was your MUIC life when you were a student?
Being an MUIC student is one of the memorable times in my life. All the ajarns were more than just lecturers. They were like my parents who helped me with academic and non-academic matters. The staff members, especially in the Student Affairs Office, had helped me a lot with the extra-curricular activities. I had friends who supported me, and we are still friends until now.
What skills have you learned in college that apply to your career?
MUIC, especially Social Science major, had always encouraged me to "think outside the box" which is very important for my career as a content creator and music performer. I would never be outstanding in my field if I lack creativity and bravery to think differently. Another important skill is public speaking. As both content creator and lecturer, I always need to speak in front of many people. MUIC has taught how to organize my thoughts, choose the right and impactful words and get comfortable when speaking in front of large crowds.
Motto that inspires you?
First, think. Second, believe. Third, dream. And finally, dare.
Mr. Pajera Patanasiri
MUIC Class of 2013, Major: Social Science
Position: Content Creator on Fino the Ranad Channel / Music Performer / Part-time Lecturer
Below is a PDF file to view.
untold_story_chapter_7