Freedom to Learn: A new education system at Indonesian University
September 23, 2022
2023-01-25 9:29
Freedom to Learn: A new education system at Indonesian University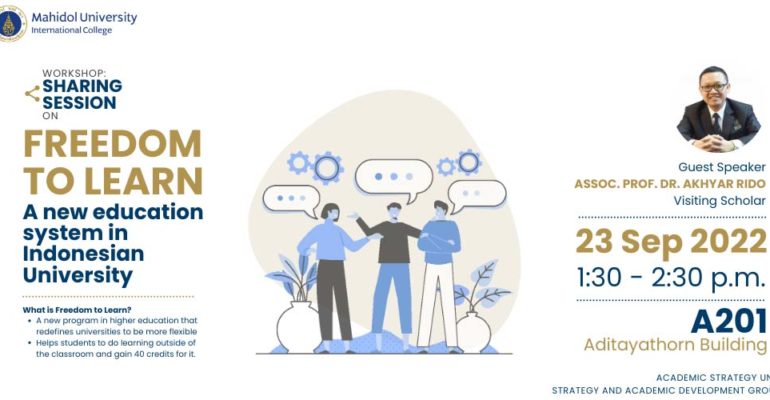 Freedom to Learn: A new education system at Indonesian University
Title: Freedom to Learn: A new education system at Indonesian University
Date & Time: Friday, 23 September 2022, from 1:30 – 2:30 p.m.
Venue: A201, Aditayathorn Building
Conductor: Assoc. Prof. Dr. Akhyar Rido, Visiting Scholar at Humanities and Language Division, Mahidol University International College
The Strategy and Academic Development Section and the Humanities and Language Division organized the workshop entitled 'Freedom to Learn': A new education system in Indonesian University. In this session, participants were introduced to the new educational movement in Indonesia, where students were given room to customize and take charge of their learning and to foster change-ready cultural traits to prevail in this competitive world.
Indonesia is a huge country with more than 275 million people. It has 4,593 higher learning institutions with 22,306 study programs and 8.4 million students in the system. With the potential of human resources, Indonesia has more than enough to support its future economic growth. Thus, their government attempts to revolutionize the country's education system to excel in its students' competencies, networking, and soft skills, and a new education movement is coming into play.
The movement dubbed "Merdeka Belajar" or "Freedom to Learn" is a new higher education program redefining the university 's duty to provide flexibility and a pathway that allows students to carry out their learning outside the conventional classrooms. The objective is to prepare university students to respond to global competitiveness and rapidly transforming societies, workplaces, and environments. Through this program, students have the opportunity to take courses from different academic departments in their university for one semester or up to a maximum of 20 credits and to study at other universities in Indonesia or abroad as well as to learn from industries, government bodies, and non-governmental organizations for two semesters or equivalent to 40 credits (1 credit is equal to 170 minutes).
Under Freedom to Learn program, students are encouraged to pursue either of the following choices in their 3rd or 4th year of university, depending on their study plan:
Teaching Assistantships at School
Village Community Service/Volunteer in Rural Areas
Certified internship & Independent Study
National & International Students Mobility Award
Entrepreneurship Coaching program
Humanitarian Program
Teaching & Learning with Industry
Partners with inbound/outbound, private/public sectors
The program is well-accepted by higher education institutions and students in Indonesia, with more than 2,000 universities, more than 1 million applicants, and more than 400,000 students participating. The 2022 survey shows that participating universities and students feel that this program has improved their practical knowledge, soft skills, and networking. However, there are also many challenges in terms of administration, such as reports, credit conversion systems, and finance.