HLD's Seminar on AI in Translation and Interpreting
February 3, 2023
2023-02-03 7:41
HLD's Seminar on AI in Translation and Interpreting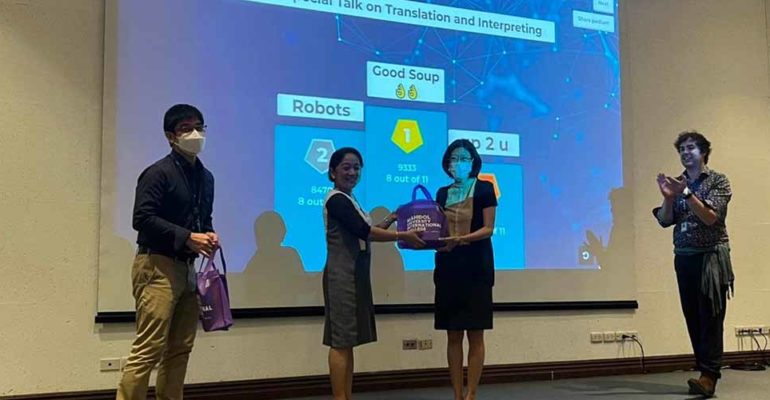 HLD's Seminar on AI in Translation and Interpreting
Are robots or artificial intelligence (AI) taking over the jobs of translators and interpreters? That's the question that the seminar entitled, "Oh No…A Robot Took My Job!" tried to answer.
The seminar, held on February 2, 2023 at the Auditorium, had two speakers: Asst. Prof. Dr. Nunghathai Rangponsumrit of Chulalongkorn University's Department of Western Languages, and Mr. Sergio Esteban Redondo, a faculty member of the Foreign Language Program of MUIC's Humanities and Language Division (HLD), which organized the event. At least 130 students attended the event.
Asst. Prof. Dr. Analiza Liezl Perez-Amurao, HLD Chairperson, gave the welcome remarks while Mr. Jun Toyama, Foreign Language Program Director, introduced the guest speakers, and Mr. Jan Stevener, Foreign Language Program Coordinator, served as the emcee. Several HLD faculty members also attended the event.
The two speakers gave an introduction to, and enumerated the various types of, interpreting and translating, before discussing how AI is now being used in this field. They also shared a list of jobs that an interpreter or translator can expect to be hired for. The organizers also hosted a game of Kahoot to test how well the students have understood the presentations.
In the end, Ajarn Nunghathai and Ajarn Sergio assured the audience that AI would not be taking over the future jobs of foreign language students. Ajarn Nunghathai quoted Australian broadcast journalist and author Bill Woods: "Interpreters will not be replaced by technology. They will be replaced by interpreters who use technology."