HSBC Thailand Business Case Competition 2022 Training Day in MUIC
April 7, 2022
2022-04-07 10:02
HSBC Thailand Business Case Competition 2022 Training Day in MUIC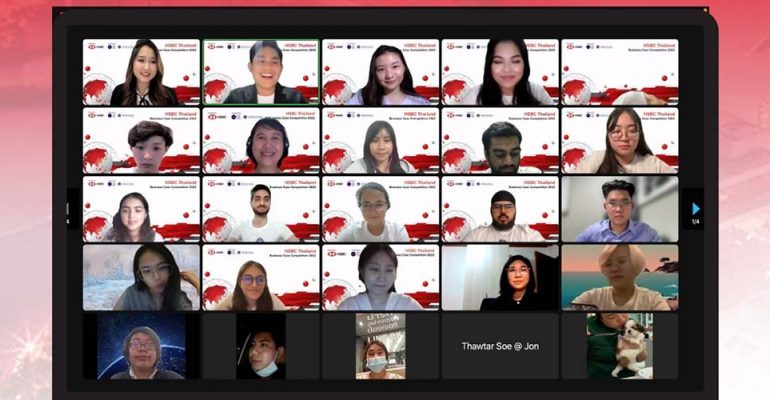 HSBC Thailand Business Case Competition 2022 Training Day in MUIC
The Mahidol University International College Case Club (MCC) hosted the "Training Day of the HSBC Thailand Business Case Competition" on March 25, 2022.
This activity provided an opportunity for HSBC Business Case Competition 2022 contestants, and anyone interested in Case Competitions, to understand what is required of them in the HSBC Thailand Business Case Competition, namely learning about the recommended structure to use in the case competition, strategically analyzing and answering the case questions, along with getting familiar with the guide to financial analysis.
Mr. Krisda Phatcharoen, Country Head, Wholesale Banking, HSBC, commenced the Training Day event with his welcoming speech. The event then proceeded with Dr. Pek Chen Khee (Dr. Eugene Pek) who is CEO, UCSI Poll Research Centre and Associate Professor UCSI Graduate Business School, enlightening the participants with "Practical Approach to Business Cases and Devising Business Strategy." The event ended with Ms. Regine Chan, who is the General Atlantic Associate & Co-founder of Generation Z, an NGO that drives social mobility and financial inclusion across Asia introducing a new topic, "Comprehensive Guide to Financial Analysis" which details the traits needed to understand the financial models and incorporate them within their case competition.
One hundred ten participants ranging from students across different universities, faculty members, and HSBC Thailand's spectators joined. Registration of the Training Day session was free of charge.
HSBC Business Case Competition 2022 was organized by its committee, who are members of the MUIC Case Club. Its key people are:
1. Ms. Princess Erica Gallemit, President of MCC2022
2. Mr. Nicholas Tan Hong Xin, Vice President of MCC2022
3. Mr. Vikrant Kamal Ganwani, Treasurer & Co-head of Development
4. Ms. Intira Setavoraphan, Secretary & Co-head of Development
5. Ms. Darya Makhotkina, Head of Operations
6. Mr. Sihapanha Moun, Head of Marketing and Public Relations
The MUIC Case Club is a college-level consultancy-based club which aims to make successful stories through competing and organizing case competitions.
The HSBC Thailand Business Case Competition is a prestigious business case competition sponsored by HSBC in partnership with Mahidol University International College. On an invitation basis, undergraduate students from Thailand's leading business schools will crack real-life business cases.
For more information, please visit:
MUIC Case Club's socials:
Facebook: www.facebook.com/muic.caseclub
Instagram: www.instagram.com/muiccaseclub
LinkedIn: www.linkedin.com/company/muic-case-club/
Email: muic.caseclub@gmail.com
Website: https://muic.mahidol.ac.th/eng/hsbc-competition-2022/