ICIC Students' Stand on Socio-cultural Issues as Expressed in Visual Art
November 15, 2023
2023-11-20 10:34
ICIC Students' Stand on Socio-cultural Issues as Expressed in Visual Art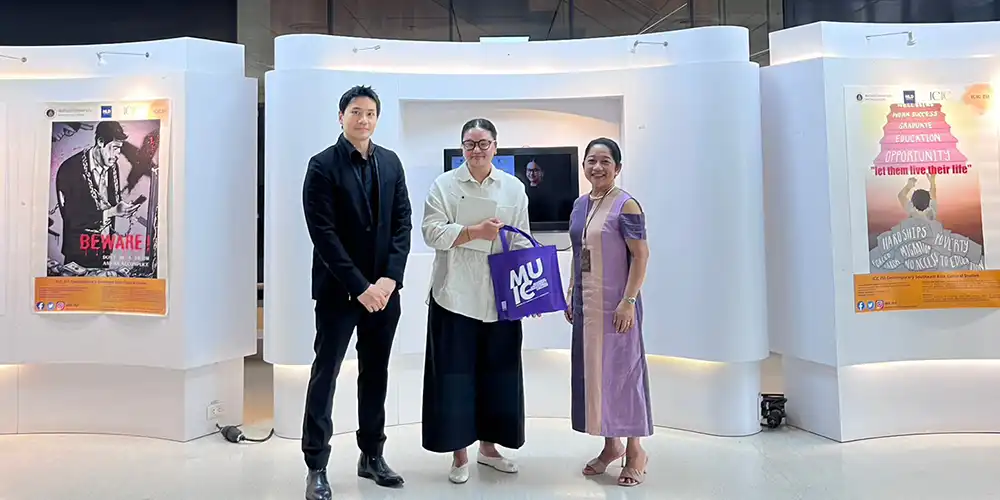 ICIC Students' Stand on Socio-cultural Issues as Expressed in Visual Art
The Intercultural Studies and Languages (ICIC) students of ICIC 251 Contemporary Southeast Asia: Cultural Studies staged an exhibition of posters they have made that demonstrated their knowledge and understanding of selected social and cultural issues. With its opening ceremony on November 15, 2023, the exhibition in the Ground Floor Lobby of Aditayathorn Building will run until November 22, 2023.
Under the mentorship of Asst. Prof. Dr. Analiza Liezl P. Amurao, a faculty member of the Humanities and Language Division (HLD), the students learned much about cultural studies concepts and contemporary issues in Southeast Asian countries, centering on power and how it plays out across different issues, making discussions interdisciplinary.
The lessons they have learned this term were distilled and found expression in the posters that each small group has made as the final project. In choosing the visual medium to express not only their new-found knowledge but also their opinions about the said social issues, Ajarn Analiza said that students were given the freedom to express themselves using the digital form.
The guest speaker during the opening ceremony, Ms. Adulaya Kim Hoontrakul, Director, Bangkok Art and Culture Center, could not have agreed more. In praising the students' outputs, she emphasized in her speech the value of a student-centered exhibition where an art form, such as cultural posters, serves as a shared-memory keeper in every society.
The ICIC Program Director, Dr. Kal Elle, gave the welcome remarks and complimented the students for their creative and outstanding efforts. Several Humanities and Language Division faculty members also attended the event. After the guest speaker concluded her speech, a viewing of the posters was conducted during which the students explained their respective entries to their classmates and teachers. 

Do you have a strong interest in languages, the humanities and culture? Enrolling in the Intercultural Studies and Languages major might just be the action you need to take. To learn more about this program, please click: https://muic.mahidol.ac.th/eng/programs/undergraduate-programs/humanities-and-language/major-in-intercultural-studies-and-languages/