Inner Peace Club's "New Year, Better Me"
January 18, 2023
2023-03-13 7:58
Inner Peace Club's "New Year, Better Me"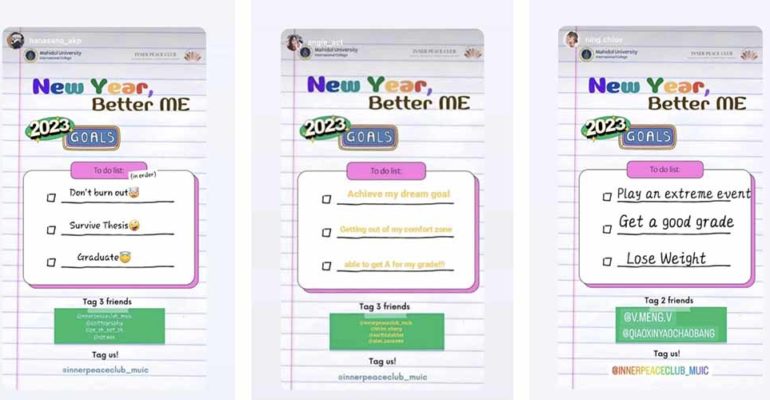 Inner Peace Club's "New Year, Better Me"
"New Year, Better Me" was Mahidol University International College's (MUIC) Inner Peace Club's first and online activity during Trimester 2/2022-2023.
The activity aimed to help students to have more self-understanding and goal-setting for this year. The activity was held from January 18 to 31, 2023, a very suitable time to come up with New Year resolutions.
Participants were asked to list their goals and post them through their Instagram Stories. Listing things in order helps participants form their thoughts easier because they get to think and reflect on their emotions and translate them into words. Also, sharing goals with friends or the public helps motivate one another to be more enthusiastic in changing into a better version of themselves. Not only that, participants would adopt healthy behaviors, like doing more exercise, getting more sleep, take care of themselves, and others.
A total of 146 people joined the activity with the participants' New Year resolutions collected in the Inner Peace Club's Instagram Highlight @innerpeaceclub_muic.