League of Legends Tournament in MUIC
May 7, 2023
2023-05-22 10:37
League of Legends Tournament in MUIC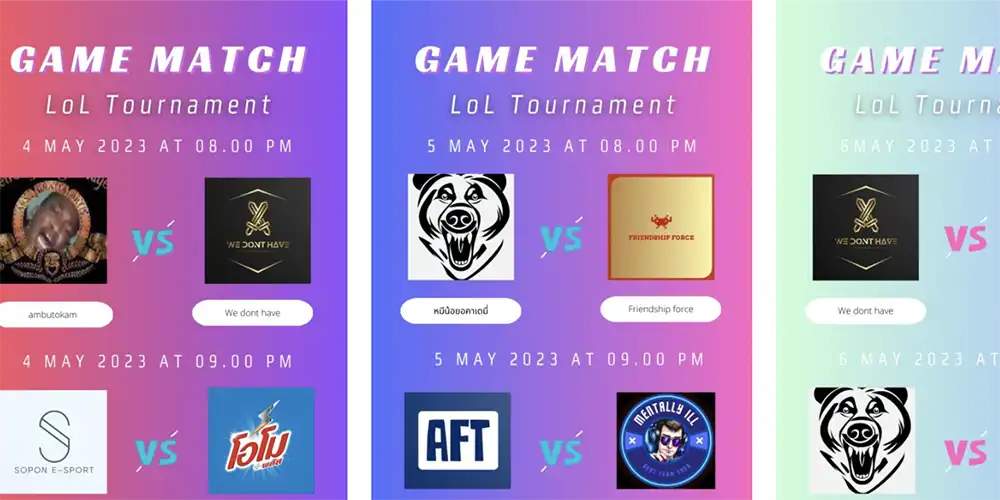 League of Legends Tournament in MUIC
The E-Sport Club of Mahidol University International College (MUIC) organized the "League of Legends Tournament," a competition for the club's members who enjoy playing the popular online game, League of Legends from May 4 to 7, 2023.
The tournament was held online and consisted of a series of matches between participating teams. The teams were made up of five players each, and the tournament was single elimination. The tournament followed the standard rules and regulations, and each match was played on the "Summoner's Rift" map. The matches were played in a best-of-one format, with the winner moving on to the next round (except the final match which was a best-of-three format).
The tournament offered cash prizes for the top three winning teams, with the prize money divided equally among the members of each team. The 1st Place winners received 2,500 Baht; the 1st Runner-up, 1,000 Baht; and the 2nd Runner-up, 500 Baht.
List of Winners
1. Punnisa Leechitcham Student ID 6381337 Major ICBI Junior
1st Place Winner
2. Pranai Tisayatikom Student ID 6481101 Major ICCI Sophomore
1st Place Winner
3. Jinnaphat Guntawang Student ID 6481161 Major ICCI Sophomore
1st Place Winner
4. Tanadol Chuntarasupt Student ID 6481259 Major ICCI Sophomore
1st Place Winner
5. Suttikarn Khuntong Student ID 6481305 Major ICCI Sophomore
1st Place Winner
6. Jittipat Lorthong Student ID 6480076 Major ICFC Sophomore
1st Runner-up
7. Hyo Joo Yang Student ID 6480559 Major ICBE Sophomore
1st Runner up
8. Thanawat Seeha Student ID 6480654 Major ICIC Sophomore
1st Runner-up
9. Thitti Lamthikun Student ID 6480657 Major ICMC Sophomore
1st Runner-up
10. Poppat Vongsuphar Student ID 6380272 Major ICMF Sophomore
1st Runner-up
11. Thanadol Thanajun Student ID 6381337 Major ICBI Junior
2nd Runner-up
12. Surasith Sarootsikan Student ID 6380354 Major ICMK Junior
2nd Runner-up
13. Vignesh Roachthavilit Student ID 6480515 Major ICMA Sophomore
2nd Runner-up
14. Taha Dardarananda Student ID 6481030 Major ICCH Sophomore
2nd Runner-up
15. Paddy Deneir Student ID 6580991 Major ICCS Freshmen
2nd Runner-up