Lecturers Needed to Develop CONNECT Online Courses
September 8, 2021
2021-09-08 9:41
Lecturers Needed to Develop CONNECT Online Courses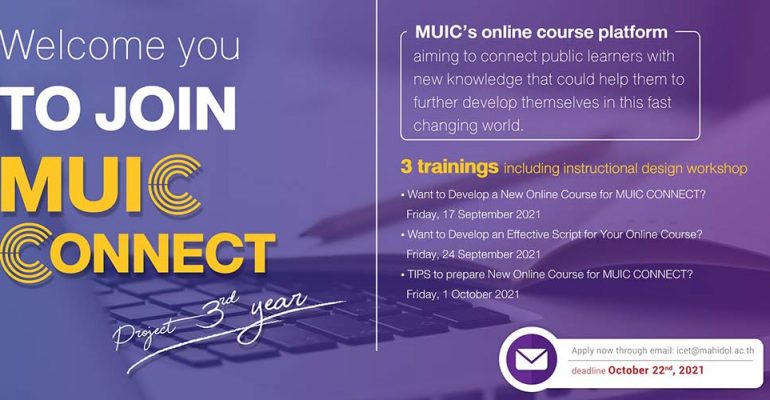 Lecturers Needed to Develop CONNECT Online Courses
The Educational Technology Section is currently accepting interested lecturers who will develop online courses for the MUIC CONNECT Project.
MUIC CONNECT is the college's online course platform aiming to link public learners with new knowledge that could help them to further develop themselves in this fast-changing world.
Currently the MUIC CONNECT has about 20 courses open for public learners. Please feel free to follow here https://muicconnect.mahidol.ac.th/ to see our online course catalog.
Lecturers who may be interested in producing new online courses can apply in this round. Please note that preference will be given to courses that are not currently part of the MUIC curriculum. The total learning hours for proposed courses will depend on the course learning outcome. The Educational Technology Section will be providing a series of training including instructional design to acting workshops in order to prepare the interested lecturers for online course production.
Those interested can apply through this link: https://bit.ly/MUICConnect
Deadline for application is October 22, 2021.