Legacy by MCC 2021
October 20, 2021
2021-10-20 11:50
Legacy by MCC 2021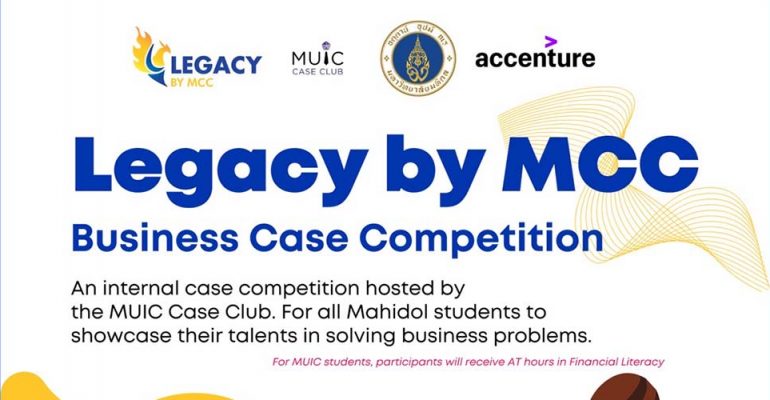 Legacy by MCC 2021
MUIC Case Club (MCC) is partnering with and sponsored by Accenture Thailand to host 'Legacy by MCC'
It is a case competition that provides a ground field for the students of Mahidol University to showcase their talents in solving real business issues. The organizers said that in 2021 the competition will be held within the university, and next year in 2022, it is expected to go national and welcome more talents from around Thailand.
Registration of the competition is free of charge and all it needs is a team of 4 people from Mahidol University.
Participants will be able to attend 3 valuable events:
1. Case Cracking and Slide Design Workshop by MCC
2. Design Thinking by Accenture Thailand
3. Career Day by Accenture Thailand
Winners, first and second runner ups will take home ฿ 10K, ฿ 5K, and ฿ 3K respectively. And each competitor will get a certificate of participation.
Legacy by MCC 2021 is organized by its committee who are members of the MUIC Case Club. Its key people are:
1. Mr Gursimran Singhprasong, Co Chair of LegacybyMCC2021
2. Mr Nicholas Tan Hong Xin, Co Chair of LegacybyMCC2021
3. Ms Jetiya Kongamornpinyo, General Secretary
4. Mr Vikrant Kamal Ganwani, Head of Development and Finance
5. Ms Princess Erica Gallemit, Head of Operations
6. Mr Sihapanha Moun, Head of Marketing and Public Relations
About Accenture Thailand
A leading global professional services company, providing a broad range of services and solutions in strategy, consulting, digital, technology, and operations
About MUIC Case Club
A college-level consultancy based club which aims to make successful stories through competing and organizing case competitions.
For more information, please visit
Legacy by MCC socials:
Facebook :www.facebook.com/legacybymcc
Instagram :www.instagram.com/legacybymcc
MUIC Case Club's socials:
Facebook: www.facebook.com/muic.caseclub
Instagram: www.instagram.com/muiccaseclub
LinkedIn: www.linkedin.com/company/muic-case-club/
Email: muic.caseclub@gmail.com