<a></a><strong>MUIC Case Club Facilitates Investment Workshop</strong>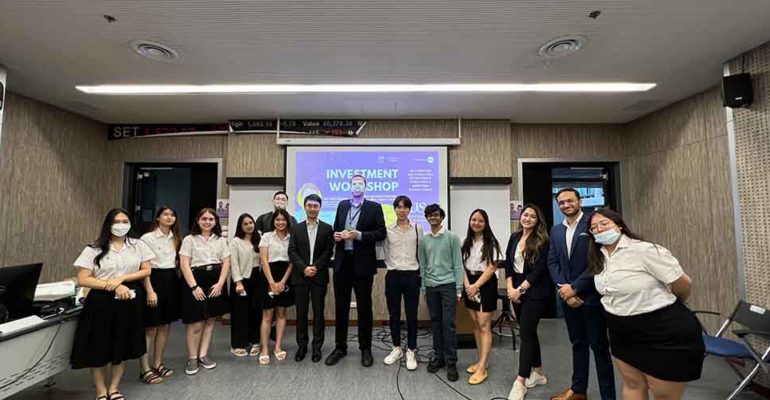 MUIC Case Club Facilitates Investment Workshop
The trend of investment in digital assets has become increasingly popular and more people are now considering it as they are believed to generate high returns in a short period of time. Hence, it is essential to understand carefully how to evaluate these digital assets for the best outcome.
MUIC Case Club facilitated the "Investment Workshop" which was organized by Student Exchange Unit, Mahidol University International College's (MUIC) on November 8, 2022, at room A451, Adityathorn Building.
The event's guest speaker was Prof. Zhang Xiao Xiang, a Senior Lecturer of Finance and Director of Admission and Recruitment and Admissions of the University of Sussex Business School. He enlightened participants, at all levels of expertise, with the knowledge to valuate new stocks and digital assets. Apart from the lectures, all attentive participants were able to try out the methods with peers, along with discussing with experts to test their ideas.
Prof. Zhang Xiao Xiang has an MSc degree in Investment Analysis (with distinction) and a wide range of industrial experience in financial markets and related fields. Before joining the academe, he was an investment analyst and consultant for projects including IPO share pricing and investment project valuation. He also has an active role in business engagement through service as a board director for local and overseas companies.
The club expressed its gratitude to the Foreign Exchange Department for providing MUIC students with this interesting workshop with a world-class expert from a leading university as well as snacks and drinks for all participants to enjoy.