MUIC, Chiba Uni Tackle Career Topics in Online Seminar
March 1, 2022
2022-06-22 8:47
MUIC, Chiba Uni Tackle Career Topics in Online Seminar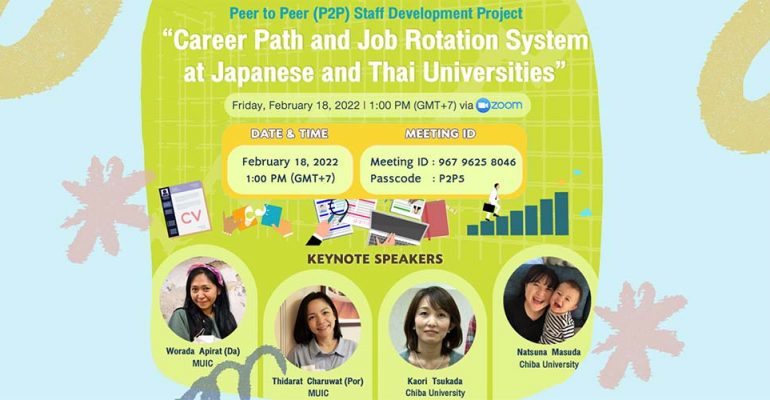 MUIC, Chiba Uni Tackle Career Topics in Online Seminar
Mahidol University International College's (MUIC) Project Development Unit (PDU) and Human Resources Development Unit collaborated with Chiba University International Student Division (CU-ISD), Japan in organizing the P2P Staff Development Project Session 5 on February 18, 2022, with the topic "Career Path and Job Rotation System at Japanese and Thai Universities" on an online platform.
The speakers from MUIC, Ms. Worada Apirat and Ms. Thidarat Charuwat, along with their counterparts from Chiba University, Ms. Kaori Tsukada and Ms. Natsuna Masuda, gave presentations to over 30 participants. From the MUIC side, the speakers talked about the college's job rotation, job transfer, and career path which include the management track and professional track on applying for Senior Professional Level for administration staff.
On the other hand, the speakers from Chiba University mentioned its SULA (Super University Learning Administrator) and also the job rotation history from the speaker's experience.
The online seminar provided an opportunity for staff members of MUIC and Chiba to learn more about the job system of each other.
Another part of the event was experience sharing about their respective career paths, job rotations and also feedback from both sides. This event ended with a closing ceremony report by Mr. Hiroshi Sodeyama, Vice Head for International Affairs Administrator at Chiba University followed by speeches from the Vice President of Chiba University, Prof. Makoto Watanabe, and the Associate Dean for International Affairs of Mahidol University International College, Asst. Prof. Alexander Nanni.