MUIC held Path for Career Success for Trimester 3/ 2021-2022
June 25, 2022
2022-07-04 1:49
MUIC held Path for Career Success for Trimester 3/ 2021-2022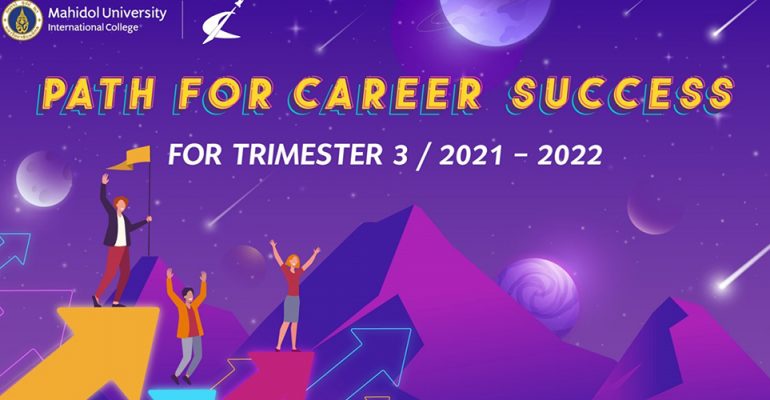 MUIC held Path for Career Success for Trimester 3/ 2021-2022
The Alumni Affairs and Career Development Group, Office of Student Affairs, in collaboration with Career Insight Club and all Program Divisions of Mahidol University International College (MUIC) organized a Path for Career Success for Trimester 3/ 2021-2022 event online via Zoom on June 25, 2022.
The event had 2 sessions that aim to introduce graduate students to their career paths with advice from career experts and experienced alumni.
Session 1 featured a Life After College: Prepare Your First Job in the Now Normal talks by Ms. Wasuthorn Harnnapachewin, Co-Founder, CareerVisa. While Session 2 was a Career Talks by Divisions which students can chose to attend the Talks that match their career paths:
Business Trends for 2022 and Beyond (BBA Division) talk by Mr. Nathasorn Boontanorm, Project Director, Sasin Management Consulting
AMA – Ask Me Anything (Science Division) talk by Mr. Jarun Ngamvirojcharoen, Director (CEO Office), Technology Innovation Lab & Decision Intelligence (TILDI), CJ Express Group
Diversity in the workplace: Why is it important? (Social Science Division) talk by Ms. Koko Tiamsai, Internal Comms, Diversity & Inclusion Senior Specialist, foodpanda Thailand
Secret Paths for Career Success: The Next-Normal Business (THM Division) talk by Mr. Phirasak Momin, Contract Consultant, Centara Hotels & Resorts
The Importance of Adaptability for Content Creators (FAA Division) talk by Ms. Chalisa Trakarnkitvichit, Associate Talent Sourcer, Appsynth Asia Co., Ltd.
Careers in Humanities: Flexibility in the Job Market (HLD Division) talk by Ms. Pakpitchaya Niyomsirivanich, Project Management Specialist, Kerry Express and Mr. Bhuris Chinsiri, General Manager and Assistant Director of Purchase, Sadettia Haichok Co., Ltd
There were about 100 MUIC graduating students, current students and alumni who attended the event.