MUIC Open Days 2022
June 25, 2022
2022-06-25 9:45
MUIC Open Days 2022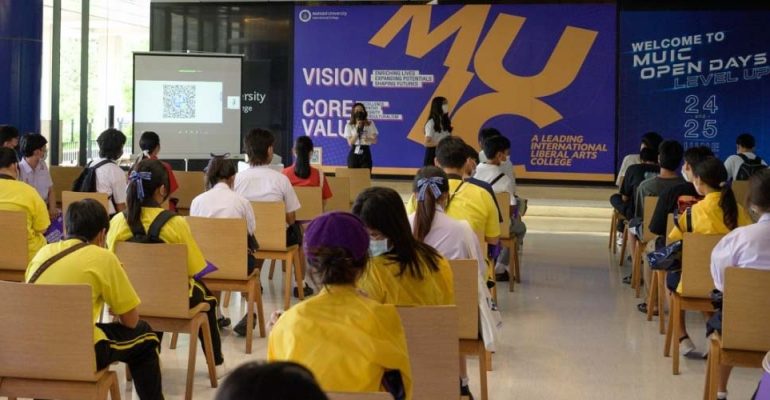 MUIC Open Days 2022
Mahidol University International College (MUIC) welcomed almost 6,000 visitors during "MUIC Open Days 2022" which was held on June 24-25, 2022 at Aditayathorn Building, MUIC, Salaya Campus.
The students, a large number of whom were interested in pursuing their bachelor's degree studies at MUIC, learned a lot about the College during the two-day exhibition event which had the theme "Level Up."
Prof. Chulathida Chomchai, M.D., MUIC Dean, officially welcomed the visitors on June 24 at the multipurpose area, 2nd Floor, Aditayathorn Building.
There were also exhibition booths for MUIC's 17 undergraduate majors, giving the visiting students the opportunity to learn more about the degree programs they are interested in.
The visitors also attended mock classes to experience a typical MUC class session. Many of them participated in mock interviews, met current students from whom they learned about campus life, joined activities initiated by the Student Association, and had the opportunity to inquire about the student exchange program. For those interested, groups of visitors were given guided tours of MUIC's facilities and Salaya campus in cooperation with Mahidol University. Aside from these, the visitors also attended talk sessions where special topics were discussed by experts in various fields. All of these were peppered with other fun activities topped by lucky draws.