MUIC Holds Online Talk on Opportunities in Medical and Dental Schools
August 23, 2021
2021-08-23 10:14
MUIC Holds Online Talk on Opportunities in Medical and Dental Schools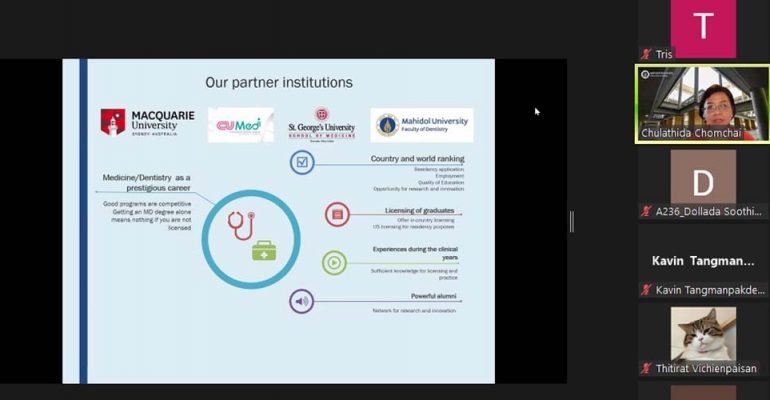 MUIC Holds Online Talk on Opportunities in Medical and Dental Schools
The Science Division of Mahidol University International College (MUIC) held an online "Group Talk on Opportunities in Medicine, Dentistry, and Beyond for MUIC Bio Grads" via Zoom on August 19, 2021.
Assoc. Prof. Chulathida Chomchai, M.D., MUIC Dean, and Assoc. Prof. Dr. Somsak Mitriattanakul from the Faculty of Dentistry, Mahidol University, gave an introduction and shared information about a Direct Admission to the Doctor of Dental Surgery Program (International Program), a new collaboration between the Faculty of Dentistry and MUIC starting on Academic Year 2021-22.
Mr. Chun-liang Cheng, an MUIC Biological Science alumni (Class of 2017) and currently a medical student at Monash University School of Medicine, Australia came to share his experience and discuss the skills that he gained from MUIC which served as an advantage in studying medicine abroad. He also shares some tips in taking the Medical College Admission Test (MCAT).
Moreover, Dr. Trisawan Limmaneevichitr, MUIC Biological Science alumni (Class of 2016) and a recent Faculty of Dentistry, Mahidol University graduate, shared her experience in studying in the Faculty of Dentistry's international program, the requirements, grades, internship, minor, and others.
Other Biological Science alumni also came to talk and answer questions from participants. About 30 students from the Biological Science program joined the online event.