MUIC Holds Virtual Executive Seminar for MBA Lucerne
March 2, 2021
2021-03-02 1:40
MUIC Holds Virtual Executive Seminar for MBA Lucerne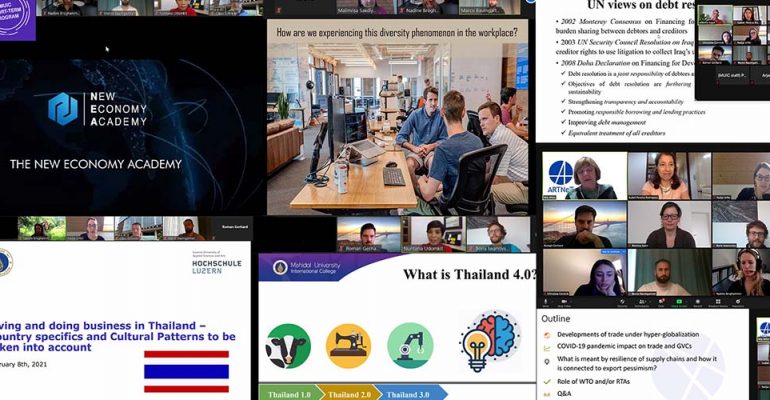 MUIC Holds Virtual Executive Seminar for MBA Lucerne
The Business Administration Division and Project Development Unit (PDU) of Mahidol University International College (MUIC), in collaboration with MBA Lucerne University of Applied Sciences and Arts (HSLU), Switzerland, held the 9th Executive Seminar (Online) in Thailand on February 8-12, 2021.

The program has been hosted by MUIC since 2014, participated by mid-level executives and CEOs working for companies in Switzerland; however, this is the first time it was held through an online platform due to the Covid-19 situation.

The program featured lecturers from MUIC and HSLU. There were also guest speakers from international organizations. These included Dr. Stefanos Fotiou, Director of Environment and Development at the United Nations Economic and Social Commission for Asia and the Pacific (UNESCAP), who talked about "Sustainable Development in Asia," Dr. Mia Mikic Director of the Trade, Investment and Innovation Division also at UNESCAP, who discussed the "Economical Aspects of Sustainable Development in Asia," while Ms. Arada Fuangtong, the Director of the New Economy Academy, spoke about the "Role of DITP to Promote International Trade."

There were also two guest speakers from Switzerland: Ms. Katharina Goetz, Project Manager of Speak-Up Office Rio Tinto, who shared her experience on "Scaling an 'Unbossed' Leadership Culture to Asia and Thailand," and Mr. Dirk Uphoff, Purchasing Director of Robert Bosch in Southeast Asia who shared his experience of managing a business in Thailand.